University of Toronto Engineering Academy - Troost ILead Sessions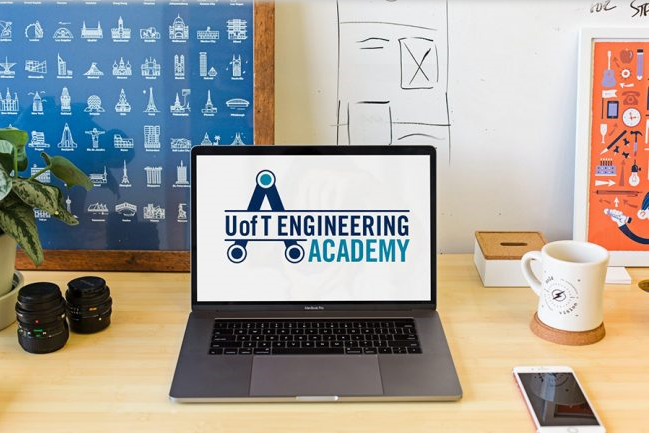 The University of Toronto Engineering Academy (UTEA) is an optional and not-for-credit program that is free to all incoming students for Fall 2020. Students gain access to a suite of established learning modules in math, physics and chemistry that they can move through at their own pace.
Troost ILead is offering workshops and events to support UTEA students in developing leadership skills for personal and academic success, as well as building community. Learn more about the sessions below and register today!
Video Library
Did you miss a session? We've got you covered. UTEA/ILead panels were recorded to provide you with the information you need for a successful first year. Hit play and enjoy!
Snack Chat with Students: What I Wish I Knew in First-Year
Friday June 12 | 1:00 – 2:30 pm EST
Starting university is an exciting time! It also means you probably have lots of questions. How easy is it to talk to professors? What are some helpful on-campus services and resources? What are good ways to balance your energy? What does "U of T Time" mean? Join us for "Snack Chat with Students" where your upper year peers will talk to you about everything first year.
Panelists
Archit Bhargava | ECE
Awale Omar | CivE
Emily Goridkov | TrackOne to IndE
Julianne Atti | EngSci
Vishakha Pujari | TrackOne
Moderator: Emzhei Chen, Assistant Director, First-year Student Success & Transition
Learn more about the panelists and moderator here.
Designing Your Goals for Summer Success
Monday June 22 | 11:00 am - 12:30 pm EST
Feeling like your summer routine could use some upgrading? Trying to set (and follow-through on) goals when things feel uncertain or unexpected is difficult. Successful leaders are able to reconnect with their needs in times of change to be able to prioritize actions that align best with who they are. Join Troost ILead at this interactive session to learn how to use design thinking approaches to reimagine your aspirations, and set fulfilling and practical goals to enhance your success going into first year and for the rest of your life.
Conversations for Creating Connections
Monday July 6 | 11:00 am or 8:00 pm EST
It's easy to meet a lot of people, but how do you deepen your connections with them? Especially with our constantly online lives, it can feel harder to really get to know others. Research has shown that meaningful social connection is strongly correlated with academic success, mental wellbeing, and professional success. It has also shown that connections are made meaningful when there is openness and follow-through. Come out and push your comfort zone in practicing these concepts at Troost ILead's interactive session.
Leading With Your Strengths 
Monday July 13 | 11:00 am or 7:00 pm EST
We all have a distinct combination of strengths and research shows that when we are able to use our strengths consistently, we experience greater life satisfaction, improved relationships and deeper well-being. In this session you will explore your core strengths, learn about the 24 VIA character strengths, and be guided to reflect on how to best leverage and utilize these strengths as you transition into University. Join Troost ILead for this fun, informative and inspiring workshop!
Conversations with Club Leaders: Getting Involved in Skule Student Groups
Monday July 20 | 1 – 2:30 pm EST
Did you know there are over 100 student clubs, teams, and organizations at U of T Engineering? From design teams to social impact clubs to music ensembles, there are endless possibilities. At "Conversations with Club Leaders" come listen to student leaders about their experience in the student club community at SkuleTM. You will learn about their organization, why they got involved, and what leadership means to them. You will also hear more about Troost ILead's Summer Fellowship which brings together a group of leaders who are deeply committed and driven to improve their club or organization, as well as themselves as leaders.
Register: https://ilead.engineering.utoronto.ca/event/conversations-with-club-leaders-getting-involved-in-the-skule-student-groups/
Panelists

Alireza Razavi | EngSci (Aerospace), Year 4 | Director, U of T Aerospace Team - Rocketry
Hanna Zhang | EngSci (Robotics), Year 4 | VC Operations, F!week
Mirjana Mijalkovic | EngSci (Biomedical Systems), Year 3 | Vice-President Academic, Engineering Society
Natalie Enriquez-Birch | IndE, Year 2 | Co-president, Engineers Without Borders
Peter Di Palma | MechE, Year 3 | Team Captain, Supermileage Team
Check out the panelists' bios here.
Moderator: Jordan Daniow, Leadership Education Specialist, Troost ILead