The Gamers have been working diligently and collaboratively since September on their projects, which they envision will "change the world." Now equipped with a leadership coach and subject-matter mentor, each team is now working towards their final presentation taking place on March 5, 2015. The winning team receives a $5,000 prize to share amongst team members! Stay tuned for more details.
Team 1 Members: Yee Wei Foong (MSE 1T5), Shailin Gosalia (MEng MechE), Caroline Schnaider Brunstein (ChemE 1T7), Odo Wang (ChemE 1T6), Kathryn Yu (EngSci 1T8)
Team 1 formed around a core value of harmony, and has chosen to focus on the complex causes of stress and anxiety at U of T. They are working to map the various stakeholders involved in providing counselling, and to distinguish the different types of students and their unique challenges when it comes to the sources of stress at U of T. The team hopes to design and develop collaborative systems to get information on available services to those who need it most.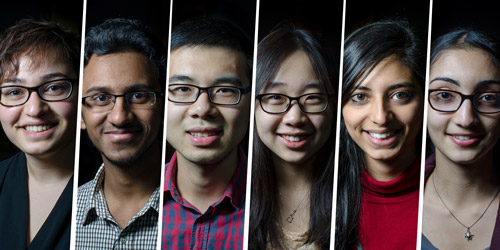 Team 2 Members: Deniz Jafari (EngSci 1T5+PEY), Omar Khan (ECE 1T7), Jiawei Bowen Le (ChemE 1T6), Tianyuan Amy Li (CivE 1T5+PEY), Amreen Poonawala (IndE 1T6), Noor Shaikh (EngSci 1T6)
Team 2 is exploring the disconnection between people's awareness of social issues and their ability to actually contribute something meaningful to solutions. The team is prototyping a platform that could bring the best of Kickstarter, LinkedIn and Facebook together to address this critical knowledge gap and enable individuals to connect, ideate, and work towards a common goal.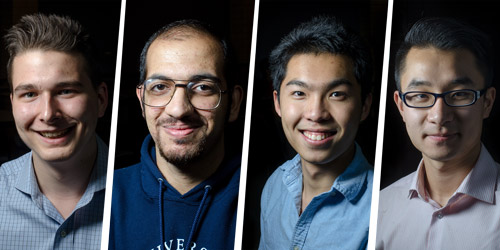 Team 3 Members: Alex Florea (EngSci 1T8), Hesam Hamledari (MASc CivE), Jiayu Carl He (ECE 1T7), Chris Zhu (IndE 1T7)
Team 3 is tackling the disconnection in U of T classrooms between what professors teach and what the students actually understand. In particular, they are challenging the vicious cycle whereby students are too embarrassed to ask for help, fall behind, skip class, and do poorly on their exams. The team is planning to prototype ways to make it easy for students to anonymously communicate feedback on what they understand, and for professors to adapt their teaching to what is being understood.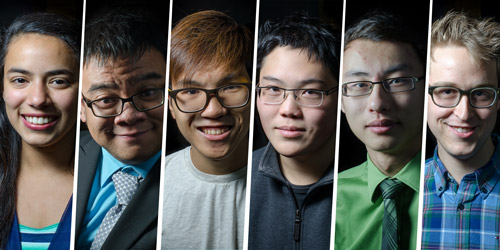 Team 4 Members: Jaquelyn Monis Rodriguez (IndE 1T5+PEY), Kevin Saludares (ChemE 1T5), Minkang Paul Suk (EngSci 1T8), Jesse Wang (ECE 1T7), Stephen Xu (EngSci 1T8), Ivan Zdravkovic (CivE 1T5)
Team 4 is seeking to address the current unawareness of bias, and the related negative impacts on collaboration amongst different professions. They are looking to help engineers in particular recognize and overcome their biases of other professions and disciplines, and become more aware of the perceptions that other people have of engineers. If successful, the team will be fostering interdisciplinary teamwork, a crucial component of building a better world.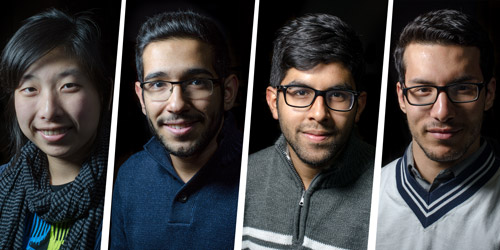 Team 5 Members: Kathy Huynh (IndE 1T7), Sharif Nami (ECE 1T6), Deep Prasad (IndE 1T8), Maher Zghondi (ChemE 1T5)
Team 5 seeks to address the root causes of long-term homelessness in Canada by better integrating homeless people into society. They are testing hypotheses around how job training, rehabilitation services and mental health support services effect homeless peoples' ability to gain meaningful employment. They will be looking to partner with community organizations to initially better understand the context before attempting to test solutions.
If you have any questions about The Game, please email Mike Klassen at mike.klassen@utoronto.ca.