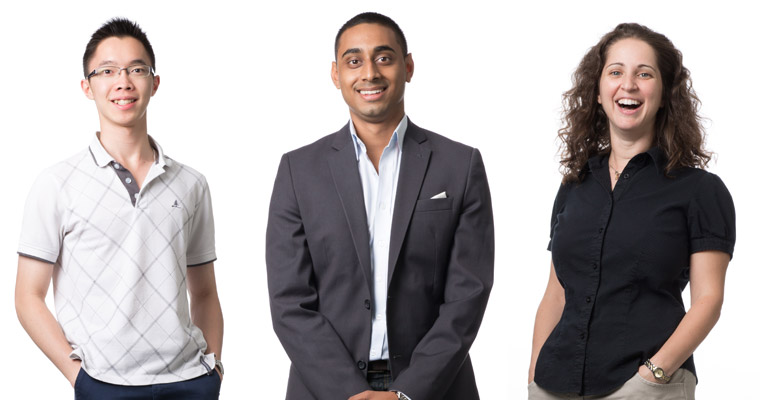 The Institute for Leadership Education in Engineering (ILead) provides transformative learning opportunities so that students and professionals can develop success skills. We empower the whole engineer to maximize their potential and contribution. ILead undertakes student programming, academic and industry-focused research, as well as outreach to engineering leadership educators and engineering-intensive enterprises.
The world demands engineers who are successful problem solvers empowered to tackle complex, global issues. Leadership education allows individuals and groups to contribute more effectively to engineering and social innovation.
---
ILead's Story: A History of Leadership Education at U of T Engineering
The Faculty of Applied Science & Engineering established ILead in 2010 to advance engineering leadership education. While the Institute was founded in 2010, leadership education within the Faculty has a rich history that began in 2002 with ILead's predecessor, the Engineering Leaders of Tomorrow program (LOT).
The Early Years
LOT began as a summer leadership program for undergraduate students in the Department of Chemical Engineering & Applied Chemistry (ChemE). In response to tremendous popularity, the LOT expanded to include the Fall and Winter semesters.
In 2006, LOT won funding from the Provost's Academic Initiative Fund. This allowed it to begin offering leadership development opportunities to students across the entire Faculty of Applied Science & Engineering.
LOT Grows
In 2007, LOT offered its first academic course, APS501: Leadership and Leading in Groups and Organizations (that course has since evolved into APS343 and APS1501). APS501 was immediately popular with students, encouraging the development of more academic courses. To date, the Institute offers 5 undergraduate and 7 graduate courses on engineering leadership and plans to deliver more in the future.
In 2008, LOT launched the Leadership Infusion Lecture Series, allowing all engineering students to learn introductory leadership concepts within the engineering curriculum. That year LOT also launched its first experiential learning certificate program on team skills. ILead continues to develop and offer a robust suite of co-curricular programs for engineering undergraduate and graduate students.
ILead Is Born
In 2009, Dean Cristina Amon established the Task Force on Engineering Leadership Education in response to LOT's rapid growth and popularity with students. The Task Force reviewed advances made by the LOT program and proposed strategies for its future development. It recommended the creation of the "Institute for Leadership Education in Engineering," with the acronym "ILead." The Institute's mission:
To develop curricular, co-curricular and extra-curricular programming for leadership education for undergraduate and graduate students in engineering
To conduct research at the nexus of leadership and education in engineering
To reach out to others to develop a community of practice dedicated to advancing 
engineering leadership
Faculty Council voted in favour of the motion to establish ILead in May 2010, as recommended by the final report from the Dean's Task Force on Engineering Leadership Education. The Institute was founded July 1, 2010. Professor Doug Reeve was named Director, Professor Greg Evans was named Associate Director and Annie Simpson was named Assistant Director. Its vision: engineers leading change to build a better world.
Blazing Ahead
Bolstered by its ambitious new mandate, ILead began reaching out to other engineering leadership programs in the United States, including MIT and Penn State. This outreach continues to this day in the form of the Community of Practice on Leadership Education for the Twenty-first Century Engineer (COMPLETE).
ILead's research platform took off. The Institute accepted its first PhD student Patricia Sheridan in engineering leadership pedagogy in 2011. Her project on teaching team-effectiveness strives to improve the way undergraduate engineering students learn to function effectively in teams. In 2012 the Institute launched the Engineering Leadership Project (ELP), seeking answers to the question: how do engineers participate in leadership of engineering intensive enterprises?
2012 marked 10 years of leadership education at University of Toronto Engineering. Through these ten years, the enterprise of educating tomorrow's leaders grew from a summer leadership program in ChemE to a Faculty-wide institute that continues its trailblazing work to transform engineering education for the 21st century. Today, ILead strives to live out its mandate with optimism, boldness, and a passion for engineers leading change to build a better world.