Building on their generosity to U of T Engineering, Kathleen and William Troost made an additional gift to support engineering leadership education. In their honour, we are the Troost Institute for Leadership Education in Engineering (Troost ILead).
As a longstanding member of ILead's Board of Advisors, William Troost (ChemE 6T7) is a champion of the kind of educational opportunities that help aspiring engineers make real impact. "That is tremendously important," says Troost, President and CEO of Peel Plastics. "It's not just making engineers technically competent, but competent in society and competent in teams, competent in being able to get things done. You can know all the equations, but that doesn't mean you can generate positive change."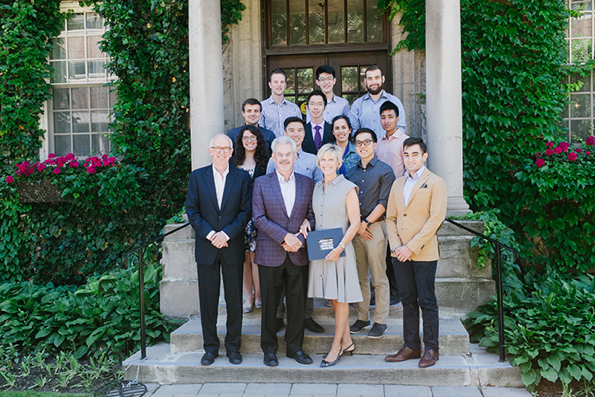 William and Kathleen Troost (bottom row, centre) stand with students, staff and faculty of the Troost Institute for Leadership Education in Engineering. Photo by Alan Yusheng Wu
To underscore his commitment to ILead, Troost and his wife Kathleen made a $3-million gift to accelerate the Institute's ability to offer innovative programming that inspires engineering students to develop a foundation of self-awareness, integrity and empathy — all of which are critical to exceptional leadership. The Institute is named,Troost ILead, in their honour.
"The Troosts' new gift will help us expand our student programs aimed at developing the full potential of engineers and empowering them to lead change to build a better world," says Professor Doug Reeve, Director of Troost ILead. "It will also allow us to dig deeper into complex research questions about engineering leadership in the workplace and the classroom, and reach out further to engineering leadership educators and engineering-intensive enterprises."
The Troosts have made previous gifts to the Institute, and have contributed to numerous undergraduate needs-based scholarships at U of T Engineering. Their ongoing support signifies the critical and lasting role leadership education plays in preparing engineering students to become resilient changemakers.
There's no better home for Troost ILead than in the Myhal Centre for Engineering Innovation & Entrepreneurship — a dynamic new building dedicated to experiential education and multidisciplinary collaborative research. Troost ILead shares Level 7 of the Myhal Centre with the Centre for Global Engineering.