Troost ILead's two-phase Engineering Leadership Project examines how engineers think about and enact leadership across their career trajectories. 
Objectives
The Engineering Leadership Project set out to examine the relationship between engineering and leadership in order to better prepare undergraduate engineering students for workplace realities and societal impact.  
We posited that "engineering thinking" might have an impact on how engineers lead, providing us with an opportunity to construct a model of leadership unique to engineers. This model of leadership would:
Allow the University of Toronto to better prepare our

engineering 

students for future leadership roles and career success.

Contribute

evidence 

to the global discourse on engineering leadership

.

Seed a new field of study on engineering leadership in professional practice
Findings
Engineers tend to resist the notion of leadership unless it is framed as professionally relevant.
The leadership orientations of engineers shift over time and across situations.
Three distinct orientations to engineering leadership emerged from our work:
1) Technical Mastery
2) Collaborative Optimization
3) Organizational Innovation
TECHNICAL MASTER
(THE "GO-TO" SPECIALIST)
YOUR STRENGTHS
• Insightful, analytically astute problem solving
• Possesses a high level of pattern recognition
• Performs detailed analyses of technical challenges
• Listens to and understands others' questions
• Explains complex problems to a range of audiences with clarity
YOU'RE PERCEIVED AS
The subject matter specialist: the engineer you most often go to with your technical questions.
PROFESSIONAL DEVELOPMENT:
Consider professional development that focuses on mentoring others and communicating complex topics in accessible ways.
What others say about Technical Masters:
" There is one person who I go to… he is the go-to guy in our office when it comes to anything related to chemistry."
" Leadership is often implicit and you will be implicitly chosen by your peers. In a team, you are going to have somebody who just kind
COLLABORATIVE OPTIMIZER
(THE ULTIMATE TEAM PLAYER)
YOUR STRENGTHS
• An interdisciplinary technical generalist
• A skilled facilitator of group process with an eye for quality, efficiency and engagement
• Possesses an exceptional ability to match project objectives, team member skills and resources
• A team catalyst that facilitates interdependence, fosters growth through critical feedback and helps teams adapt to change and conflict
• Inspires and motivates team members
YOU'RE PERCEIVED AS
The engineer who builds high-performing teams by bringing out the best in everyone. You are excellent at building bridges across different units and you leverage everyone's strengths.
PROFESSIONAL DEVELOPMENT:
Consider professional development that focuses on team building and co-operative problem-solving approaches.
What others say about Collaborative Optimizers
" When working on group projects, you have to be able to delegate to the people within the team, and coordinate and deal with the interdependencies of different parts of the project getting done."
" If you throw me into one of these systems, I am not going to become the leader of the pack, but I am going to make it work better. I've found that I get thrown into more and more exciting packs. It's like my colleagues
ORGANIZATIONAL INNOVATOR 
(THE VISIONARY)
YOUR STRENGTHS
• Visionary realization of practical, entrepreneurial and intrepreneurial (change agent) ideas
• Resourceful systems-thinker with "outside-the-box" thinking
• Uses technical knowledge to drive growth
• Anticipates and responds to market trends
• Takes calculated risks and learns from mistakes
• Identifies and secures resources to implement strategic plans on established timelines
YOU'RE PERCEIVED AS
The engineer whose creative ideas drive change within the organization.
PROFESSIONAL DEVELOPMENT
You may want to focus your professional development on business practices and organizational awareness.
What others say about Organizational Innovators
"Colleagues who I perceive as effective often have a broader picture of what is going on, so they know they are solving the right problem as opposed to just doing the best job solving this problem."
"They can think outside the box and they aren't just a cog or a store-bought engineer. They are actually identifying opportunities, and trying to establish best practices. They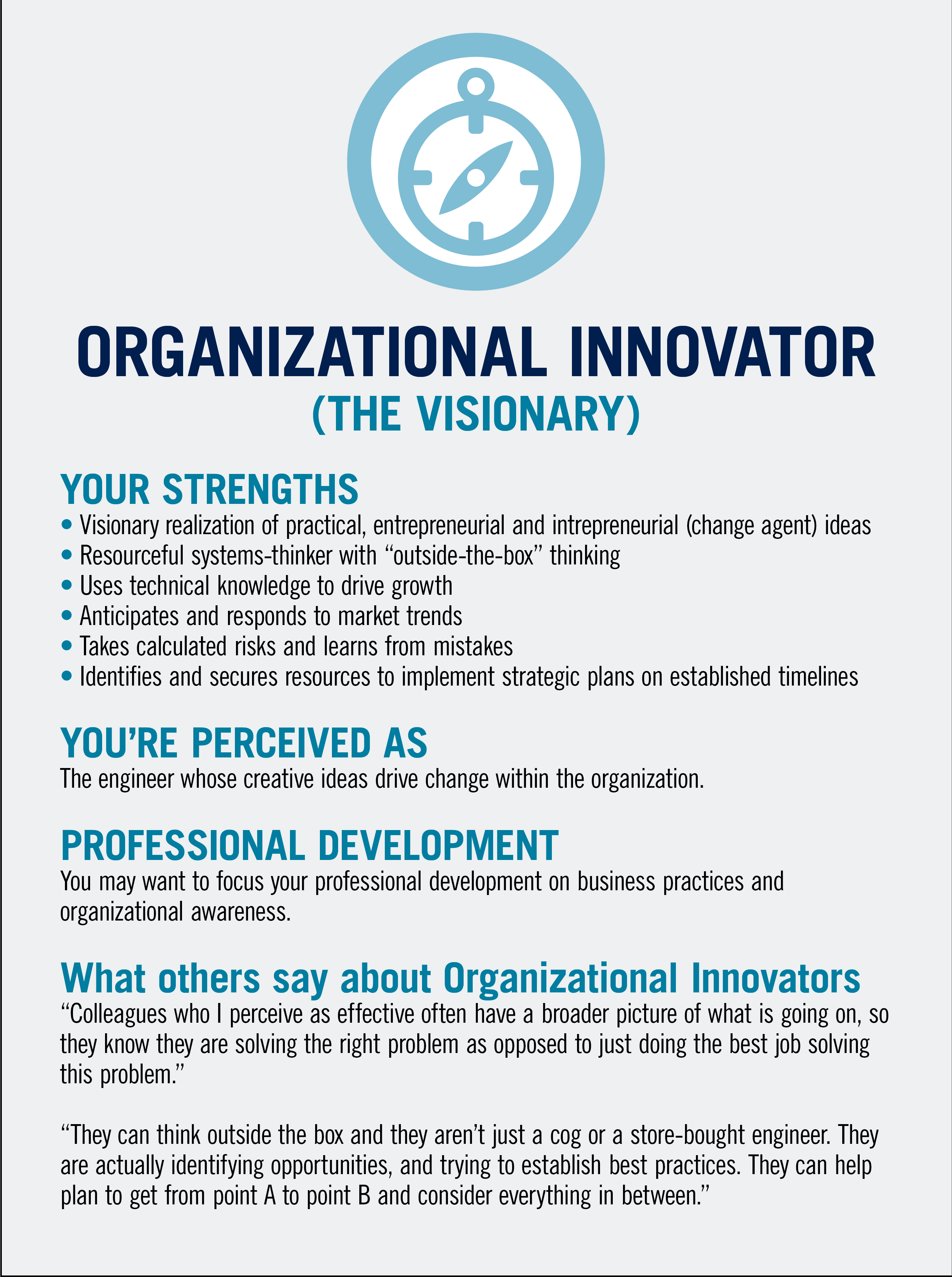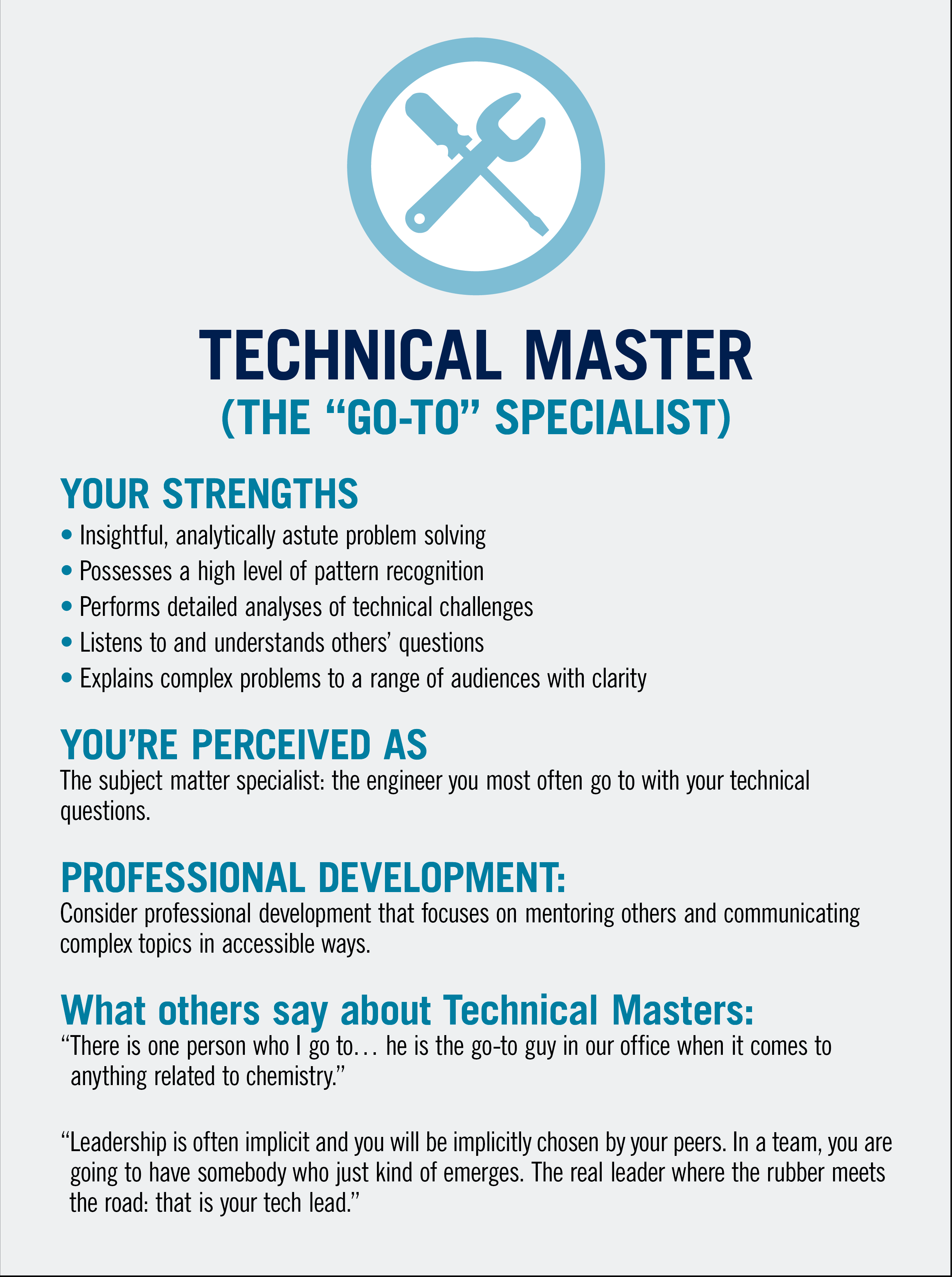 Outcomes
ILead instructors have used a condensed, self-scored version of this survey to facilitate the leadership learning of engineering students and professionals.
Funders
The Faculty of Applied Science and Engineering Dean's Strategic Fund and a consortium of companies (Hatch, Vale, ERCO Worldwide and Google Canada) funded this study.
Sharing our work with students and professionals at our Community of Practice conferences.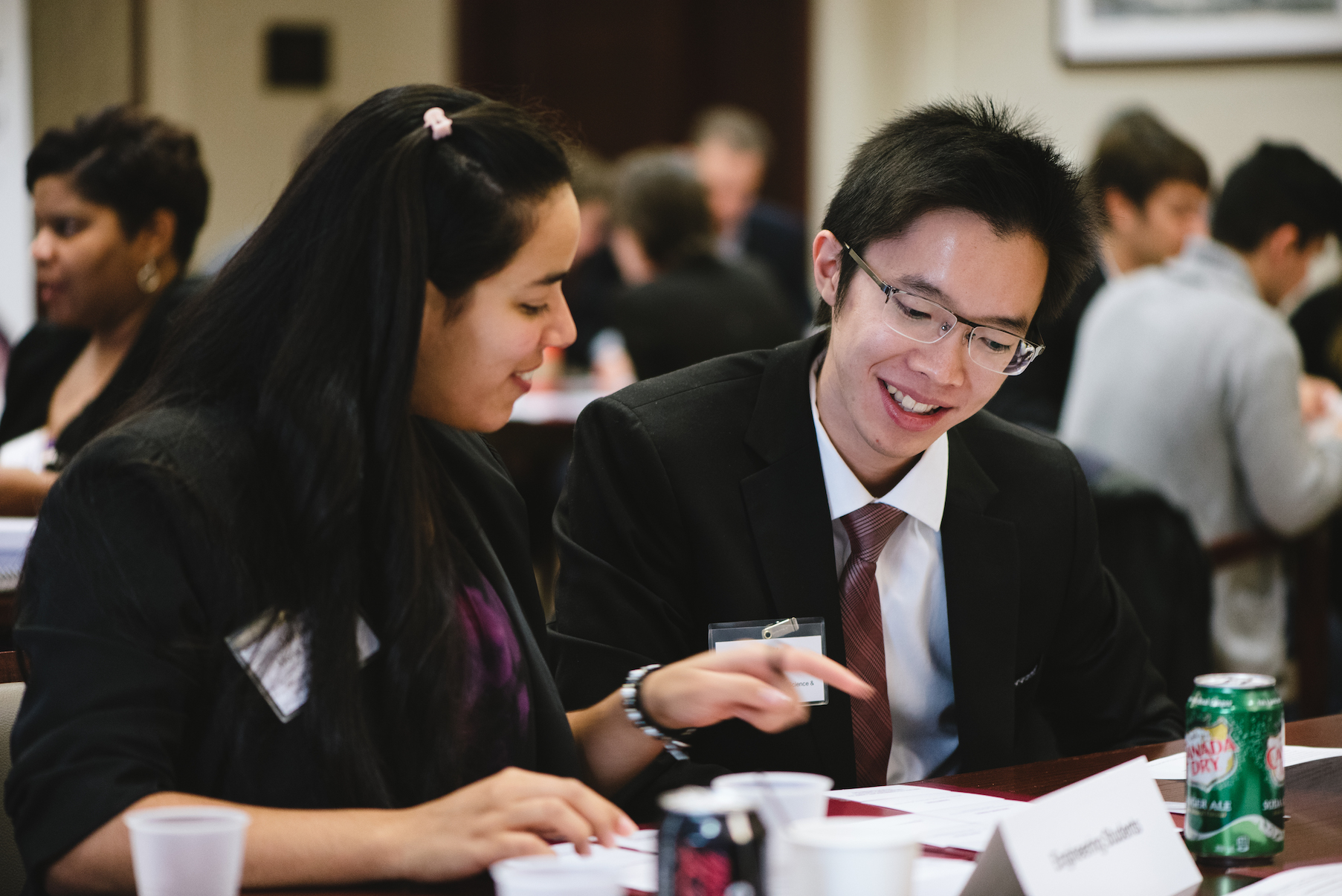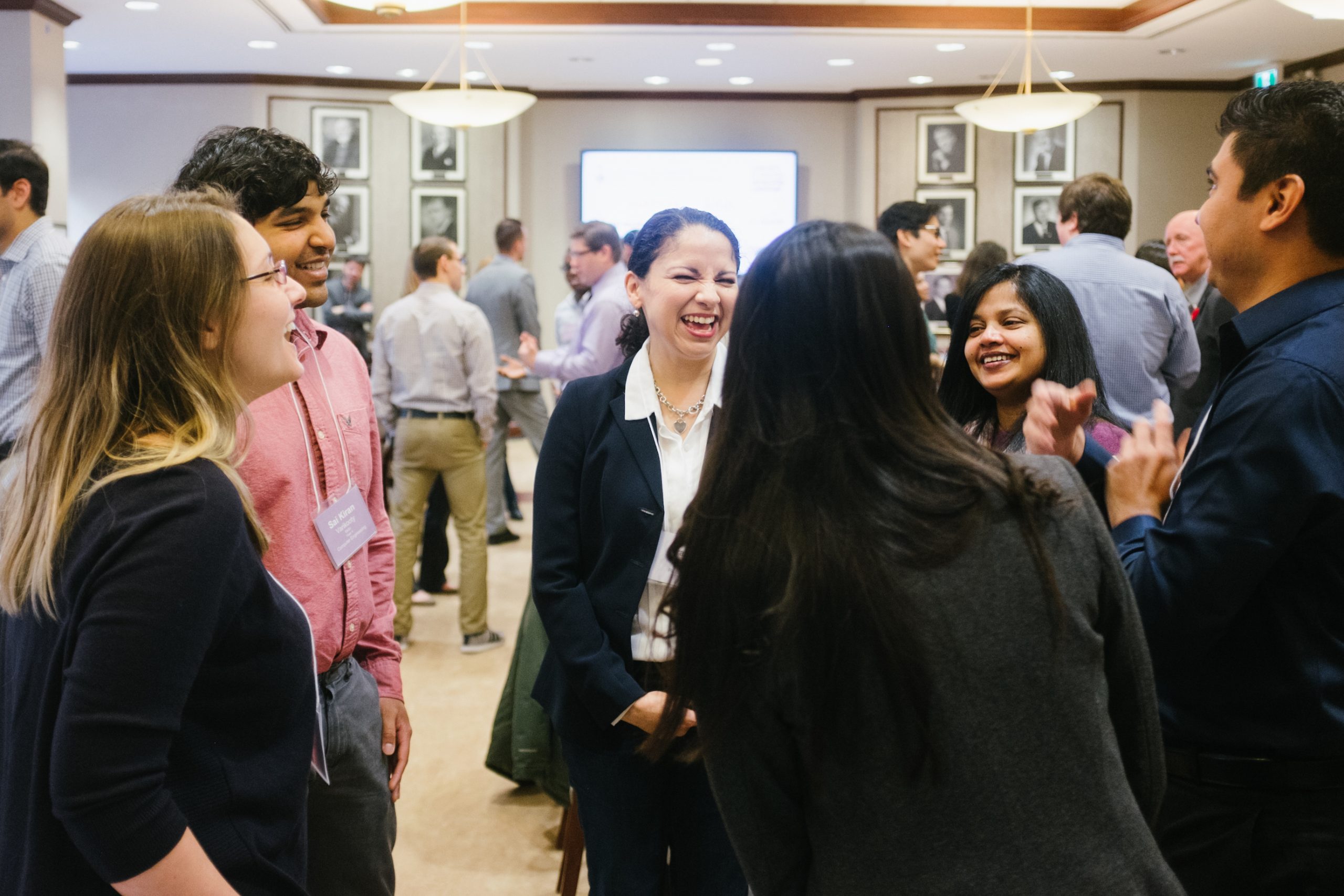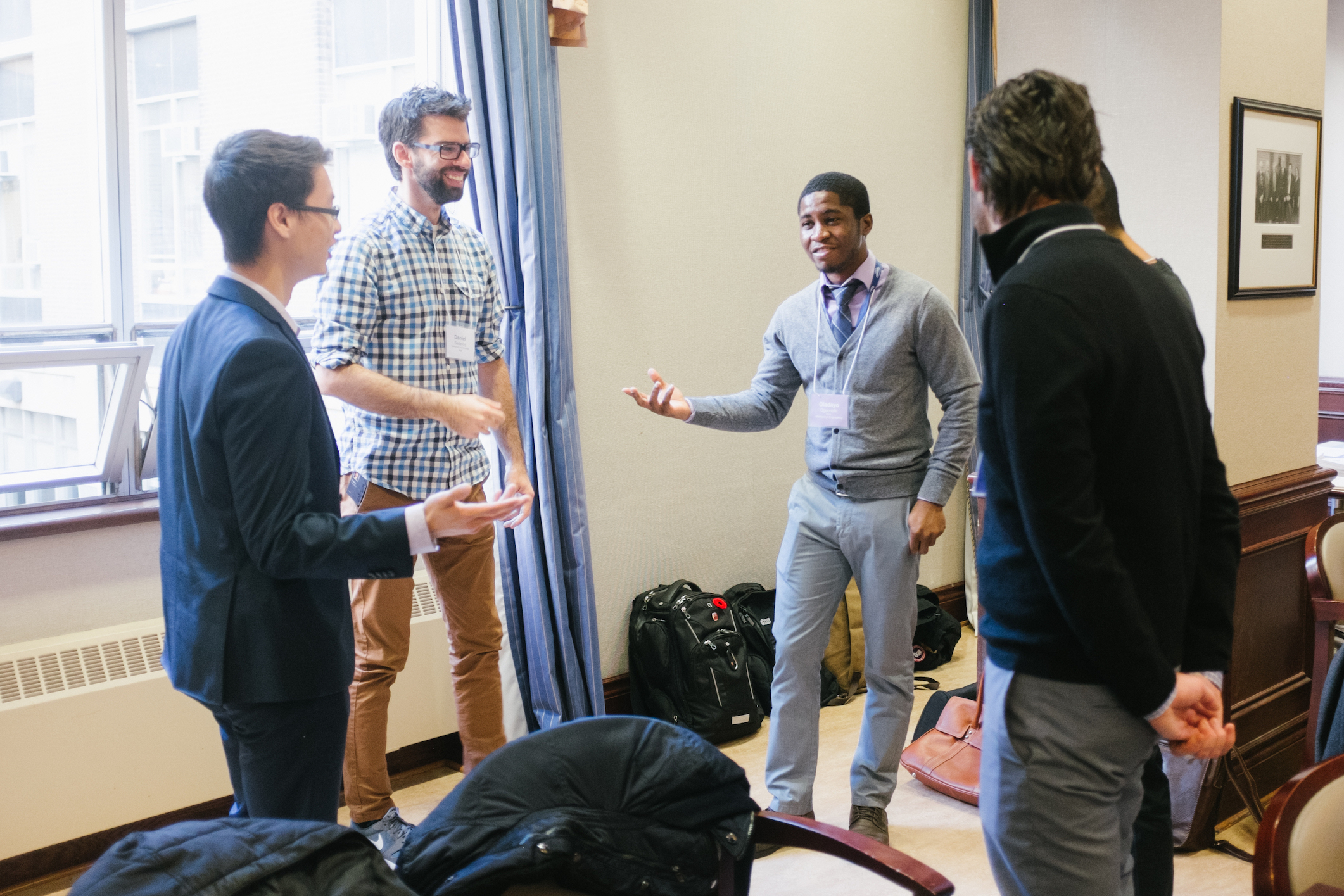 Project Overview
Engineering Leadership Project II (ELP II) (2014-2021) investigates how engineers learn to lead across their career trajectories.
Funders
The Faculty of Applied Science and Engineering Dean's Strategic Fund, the Ontario Human Capital Research Innovation Fund, and a consortium of companies (Hatch, ERCO Worldwide, Chemtrade Logistics, Independent Electricity System Operator (IESO), Toronto Hydro, Accenture, Kijiji Canada, Enwave Energy Corporation and RL Solutions) are funding this study.
Phase One 2014-2016: Leadership Development During University
Used a large-scale survey to examine how undergraduate engineering students' co-curricular and extracurricular involvement influenced their development as engineers and as leaders.
Implications for engineering education
Our findings from phase one have helped us engage university administrators and student life professionals in conversations about the impact of co-curricular involvement on engineering students' leadership identity and skill development.
Phase Two 2015-2017: The School to Work Transition
Phase Two focused on the university-to-work transition of engineering graduates. It examined how junior engineers navigate the job market, adjust to their respective workplaces and practice leadership at this stage of their careers.  
Implications for engineering education
Phase two findings functioned as the cornerstone for two Community of Practice conferences with students and industry partners. In the final phase, we will use a leadership development survey with senior engineers and career history interviews with key informants to develop an evidence-based engineering leadership case study resource.
Phase Three 2018-2021: Senior Engineers & Situated Leadership Development at Work
Phase three examined the life long leadership development of senior engineers in a range of career paths.
In particular, we examined changes in their professional identities, situated learning resulting from proud moments, wisdom gained from struggles, and inequities in career path mobility and consequent leadership learning opportunities.
Moving Forward 2021 and Beyond: Pivoting to equity
Phase three has enabled our research program to pivot towards an examination of engineers' career paths and the root causes of inequity.