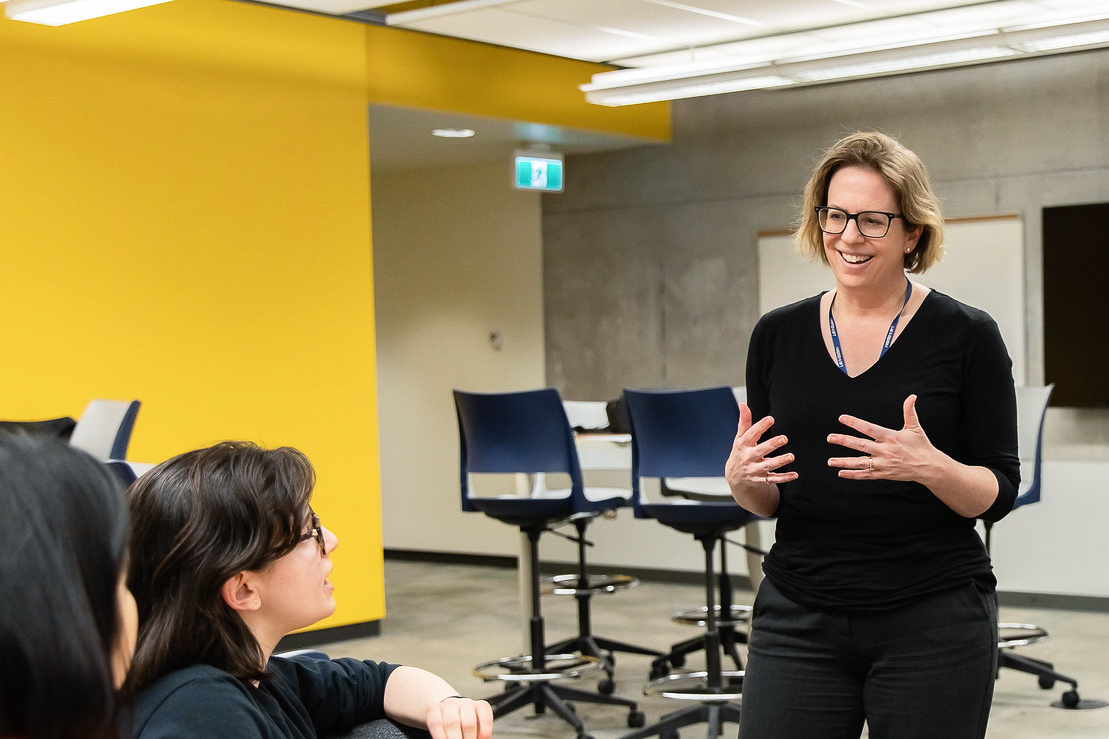 This year's annual review celebrates 10 years of Troost ILead. A decade ago, University of Toronto Engineering made an institute out of a fledgling leadership program – whose three pillars were to be student programming, research and industry outreach.
Over the past 10 years we have transformed into a comprehensive program, well-respected among our peers around the world both in academia and in the workplace. This annual review provides a snapshot of our key accomplishments.
Ten years of foundation-building has braced us for the pandemic. Our ability to serve students, corporate partners and alumni with minimal disruption over the past year and a half is a testament to the skill and substance of our community of educators and practitioners. I am proud of them beyond words.
There have been many pathbreakers in Troost ILead's journey. They notably include our founding director, Professor Emeritus Doug Reeve, as well as long-time benefactors Bill and Kathleen Troost. As Troost ILead's first hire, Associate Director Annie Simpson (whose tenure predates the Institute) fittingly shares her reflections on the institute's remarkable growth in this review.
Teachers, staff members, researchers, donors, collaborators and board members have helped us grow to what we are today. Yet even more importantly, there are the countless students who have placed their trust in us to support their leadership development. They, above all, are our inspiration to carry forward the mission.
Here's to the next 10 years!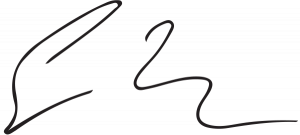 Professor Emily Moore, PhD, PEng, FCAE
Director, Troost Institute for Leadership Education in Engineering
Ten years of growth: Key figures
%
Enrolment growth for Troost ILead leadership courses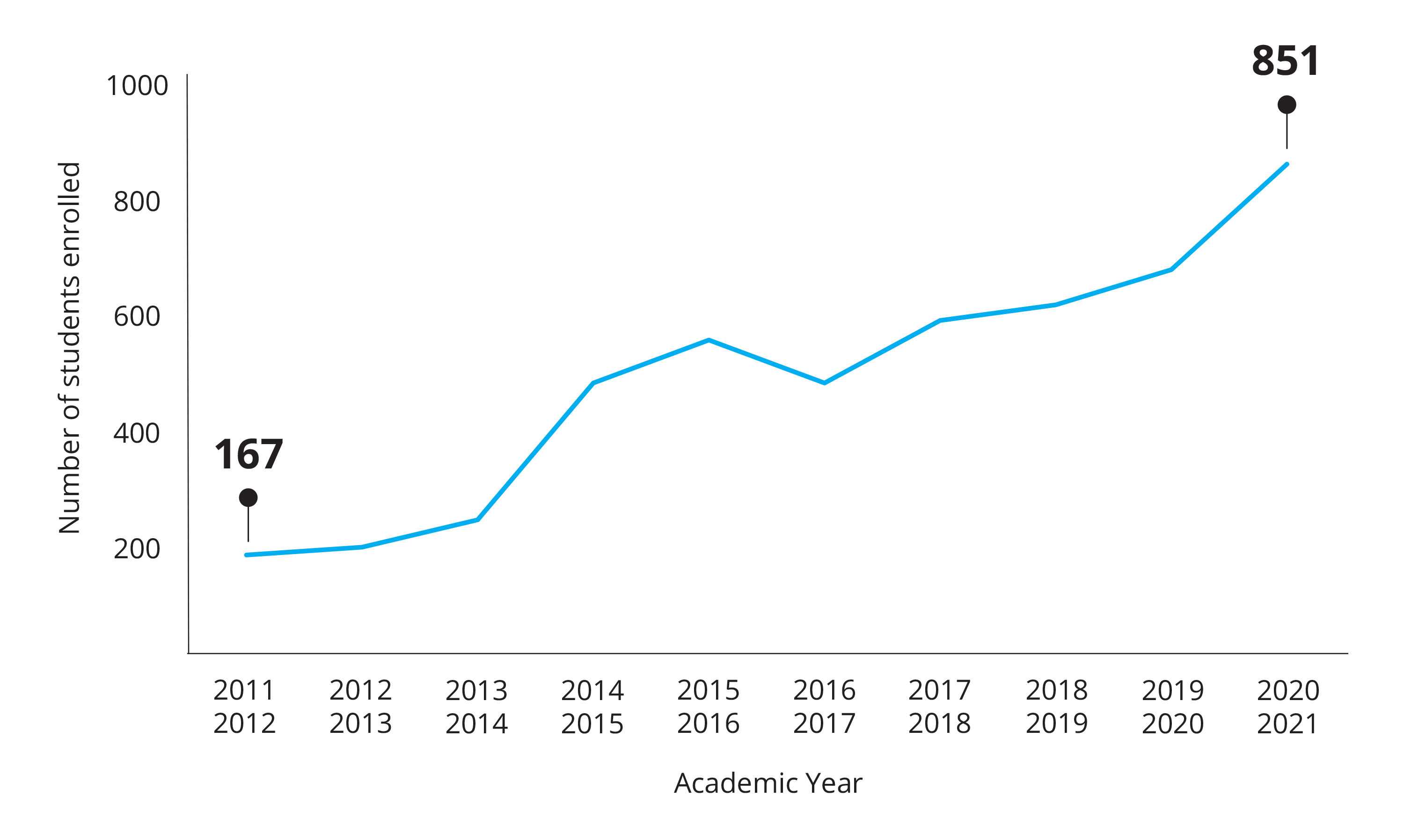 U of T delivers one of the most robust set of engineering leadership courses anywhere in the world. Enrolment has grown more than fourfold in 10 years. In addition, Troost ILead's leadership and teamwork teaching has been pedagogically integrated across all disciplines reaching every first-year engineering student each year.
I really learned that my potential – like everyone else's – is limitless. Before I engaged with ILead, I had a very simple view of what I wanted for myself and for my life based on what I thought I was capable of. ILead helped me develop the other sides of me that I didn't know I had, and has turned me into a person I didn't know I could be.
—MSE 1T1+PEY
Citations of top research paper
%
First-year students reached through integrated leadership learning in courses
Troost ILead has always held the belief that leadership development must be open to all students – not just the few. We have over the past ten years worked to embed leadership learning into the curriculum so that the maximum number of students can participate with minimum friction. Today, every first-year engineering student receives Troost ILead's curricular content on leadership development and teamwork skills. Our Team Effectiveness Learning System (TELS) is also embedded in 15 courses across the faculty and beyond. Troost ILead curricular instruction is grounded in our research work in teams, ethics and equity and engineering leadership orientations.
ILead's programs are designed in a way to empower students to find their own rhythm. They encourage students to stay true to themselves when they practice leadership. ILead does not give us, as students, one specific answer as to how one should practice leadership. They teach us how and where to look for answers.
—ChemE 1T8
Total hours of workshops, professional development and custom programming delivered for community of practice partners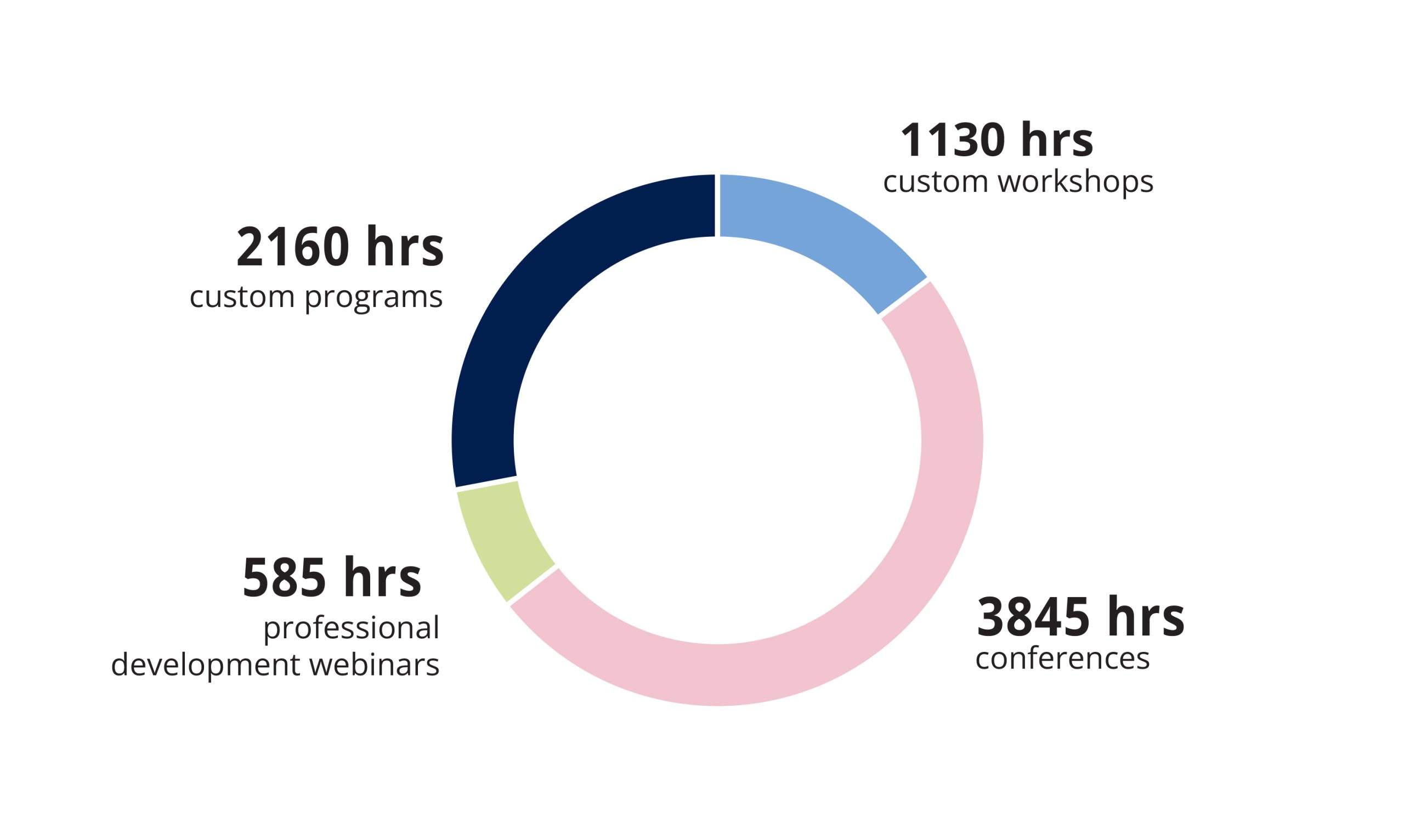 The Institute has for ten years placed great importance on translating scholarly knowledge to real-world application through its community of practice. Since 2011 Troost ILead has delivered thousands of hours of programming to professional engineers.
…it was great to exchange with my colleagues on this subject. You were really encouraging towards the group and were able to have some of the shy people speak their minds.
—Community of Practice member on an engineering leadership orientations workshop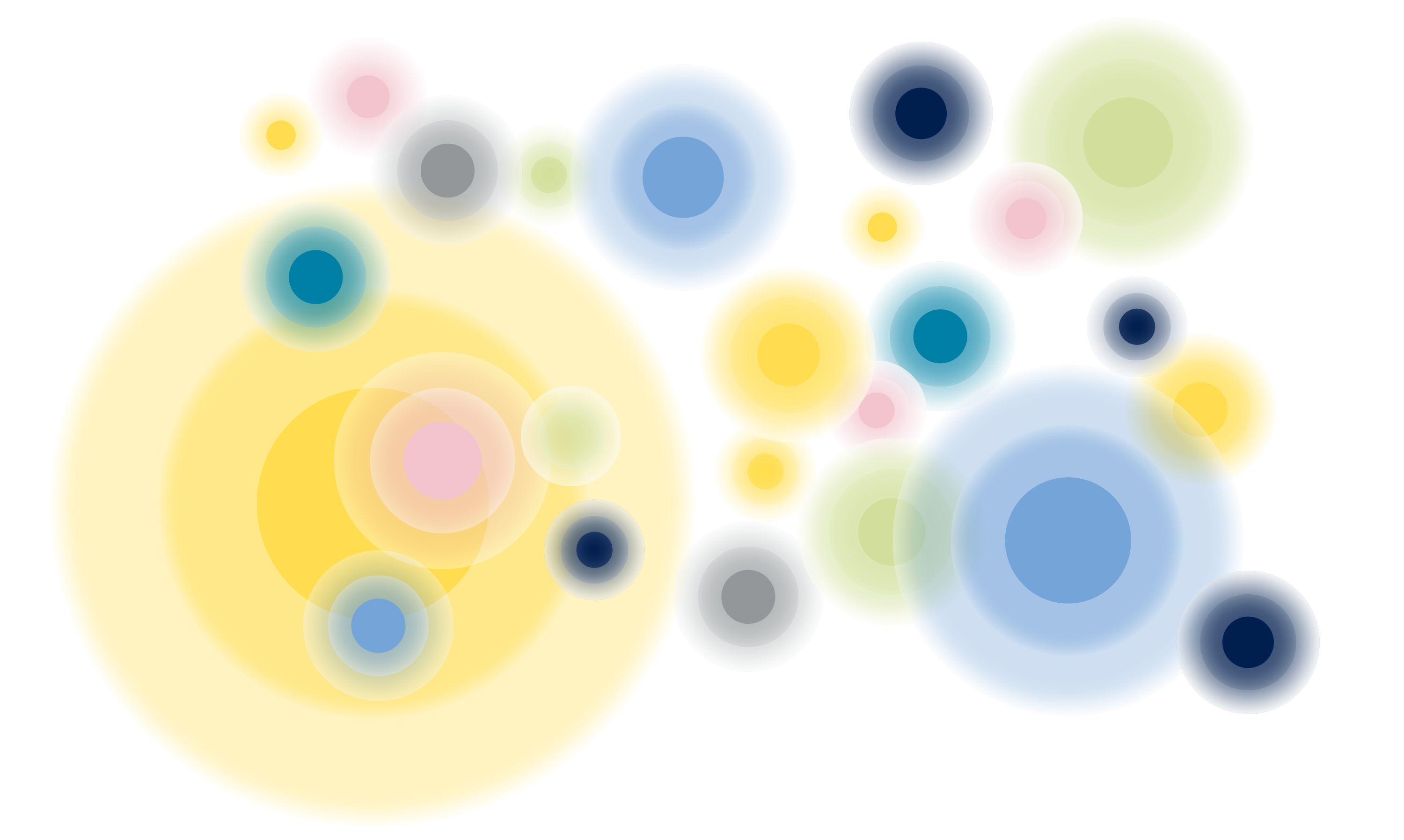 +
Number of undergraduate and graduate participants reached through Troost ILead programs, workshops and events.
Ten years of community: Reflections with Annie Simpson, Associate Director
The Troost Institute for Leadership Education in Engineering, now entering its 11th year, grew out of a sincere desire to cultivate active citizens and effective leader-engineers. It was born of hope and possibility, not only for students but for engineering education and the profession as a whole.
When I was hired in 2007, we were a fledgling program known as Leaders of Tomorrow (LOT) housed in the Department of Chemical Engineering in room 240 of the Wallberg Building. Our small but fiercely dedicated team included Doug Reeve, Greg Evans, Veena Kumar and me. We worked with passion and total dedication. I was brought on to expand LOT beyond Chemical Engineering into a faculty-wide effort. We started with six drop-in leadership lectures on topics such as self-awareness, vision and citizenship. At the time we ran one undergraduate course and a series of workshops on team skills, organizational leadership and personal leadership.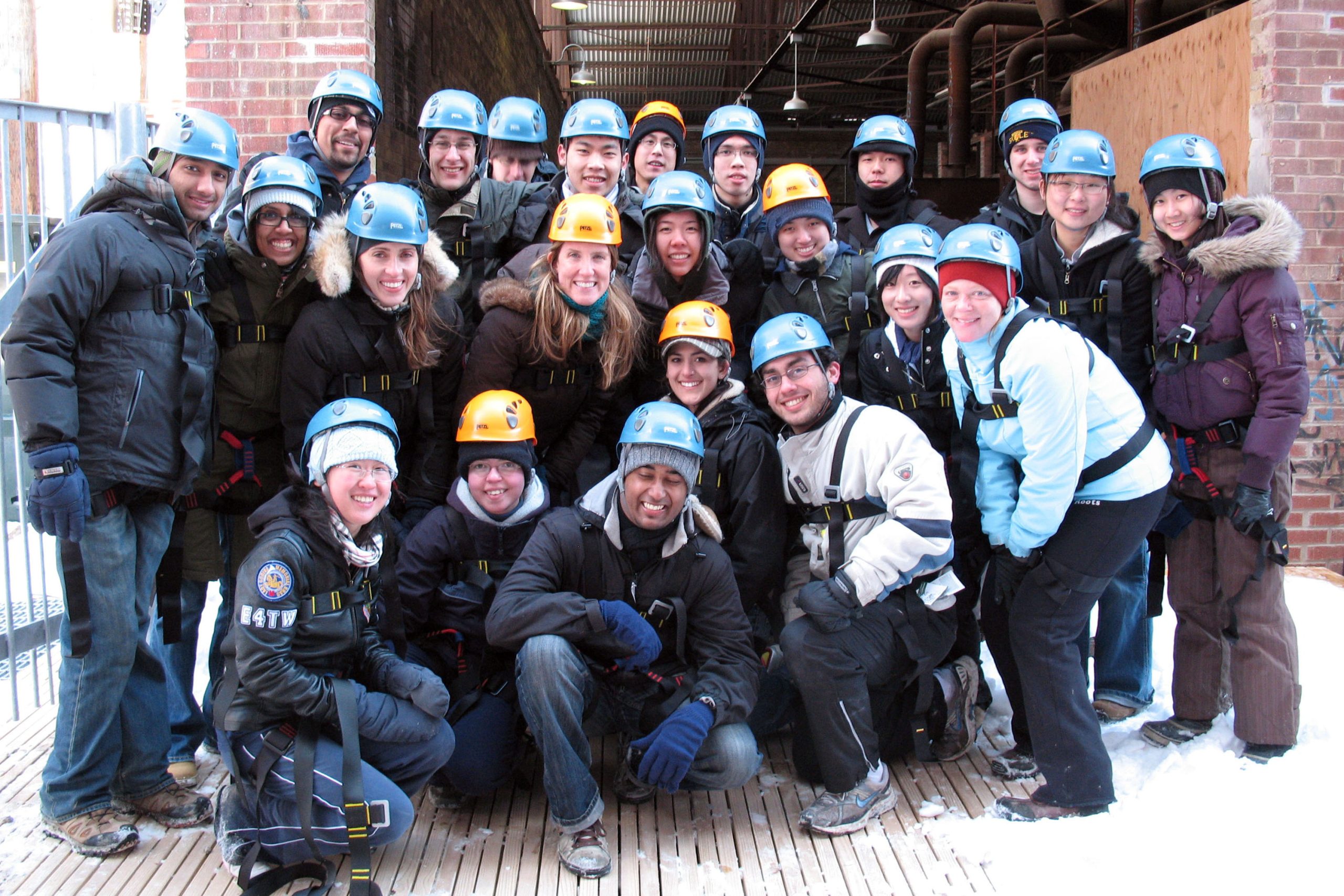 As we witnessed our students building their capacities and finding inspiration and community, it became clear that we needed to chart a path forward with clarity and focus. In 2011, the team spent five days in deep reflection. We dug deeply to distill our vision, values and principles to which we would aspire as a new organization. What emerged was the crystallization of our ideals, rooted in the conviction that leadership education is about empowering engineering students with the social and emotional skills they need to lead themselves and others with integrity and inclusivity.
In 2011, the team spent five days in deep reflection. We dug deeply to distill our vision, values and principles to which we would aspire as a new organization.
A decade has passed since that meeting. In those 10 years, we have reached over 26,000 participants through our events and programs. Our certificate programs have evolved into established programs including the Leadership Labs, the Troost ILead Summer Fellowship and the FIELD Summer Program. Hundreds of undergraduates have participated in our leadership training for student clubs.
On the academic side, our six drop-in lectures have massively expanded. Our first doctoral student, Dr. Patricia Sheridan, has spearheaded integrating leadership and teamwork learning in every first-year engineering course. We've grown from one to 13 courses that reach more than 800 undergraduates and graduate students each year. And 100 per cent of first year engineering students receive leadership instruction in core technical courses. Our flagship graduate offering, The OPTIONS Program is filled to the brim with talented students who embark on an 11-week career development journey.
When we completed a survey of our alumni around the world in 2017, we were amazed to learn that so many of our alumni identify as leaders in their spheres. Their descriptions of how Troost ILead sparked valuable lessons in personal and professional growth was deeply affirming.
Over ten years we've grown from one elective course to 13 courses.
Many generous supporters have made the work of this past decade possible. Bill and Kathleen Troost top our list. Without their belief in us and our vision we would not be able to open so many doors for our passionate and dedicated students. Dean Emerita Cristina Amon – a steadfast champion from the beginning – empowered us to grow our partnerships with other units within the Faculty, increasing our ability to bring leadership education to hundreds more young people.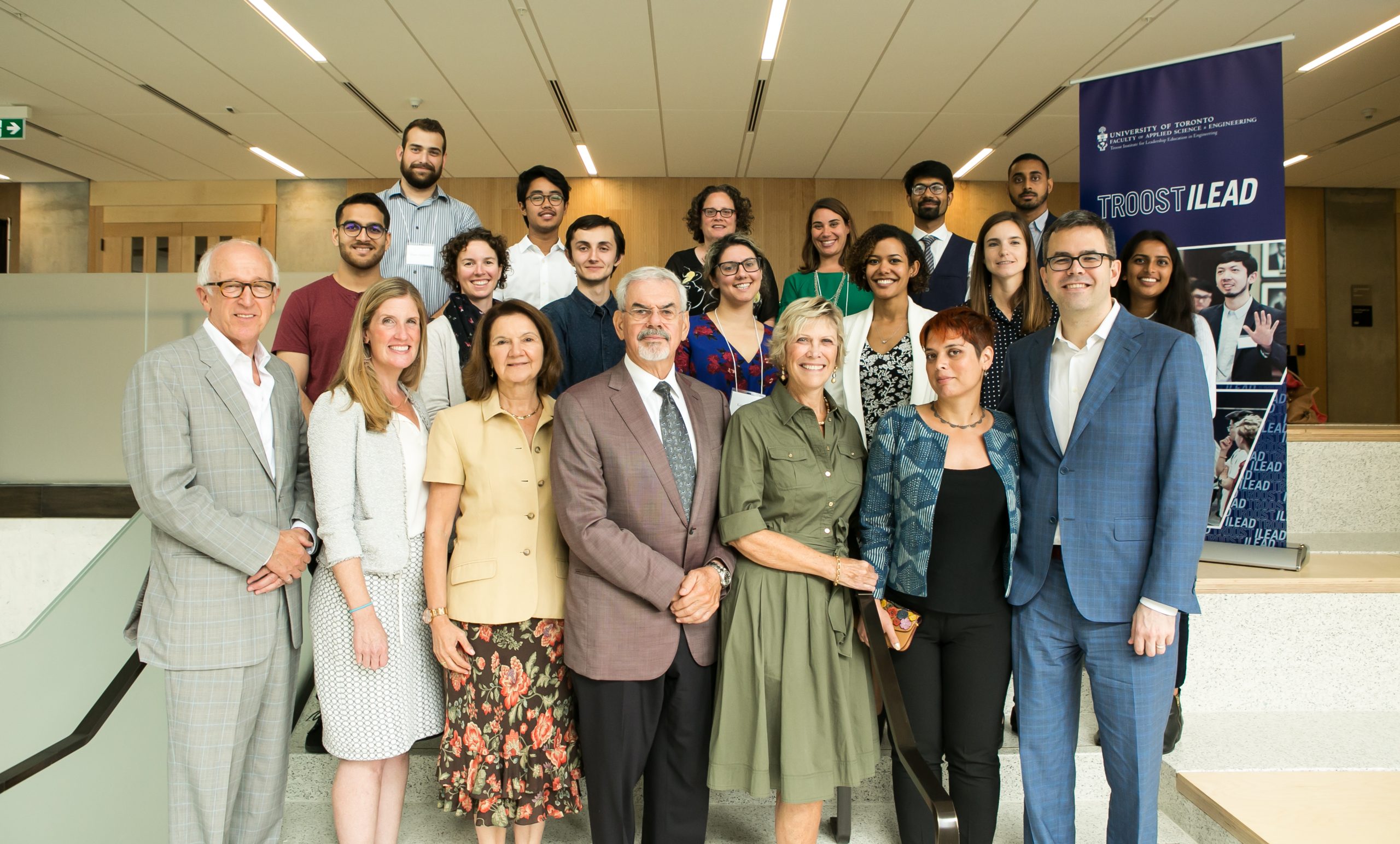 After many twists, turns and team iterations we are now a group of 11 full-time staff and faculty, 14 instructors and a team of student staff. We have traded in our Wallberg offices for our current home on the seventh floor of Myhal. It's been a thrill for me to be here through it all and to contribute to the culture and philosophy that guides us.
As we enter our next decade, what I am most proud of is that Troost ILead is an institute with heart, whose fingerprint is evident whether we are delivering a 40-hour academic course, hosting a panel, or facilitating an online workshop. This fingerprint is made of love, encouragement and kindness, alongside a healthy dose of challenge, passion and reflection.
Ten years of leadership development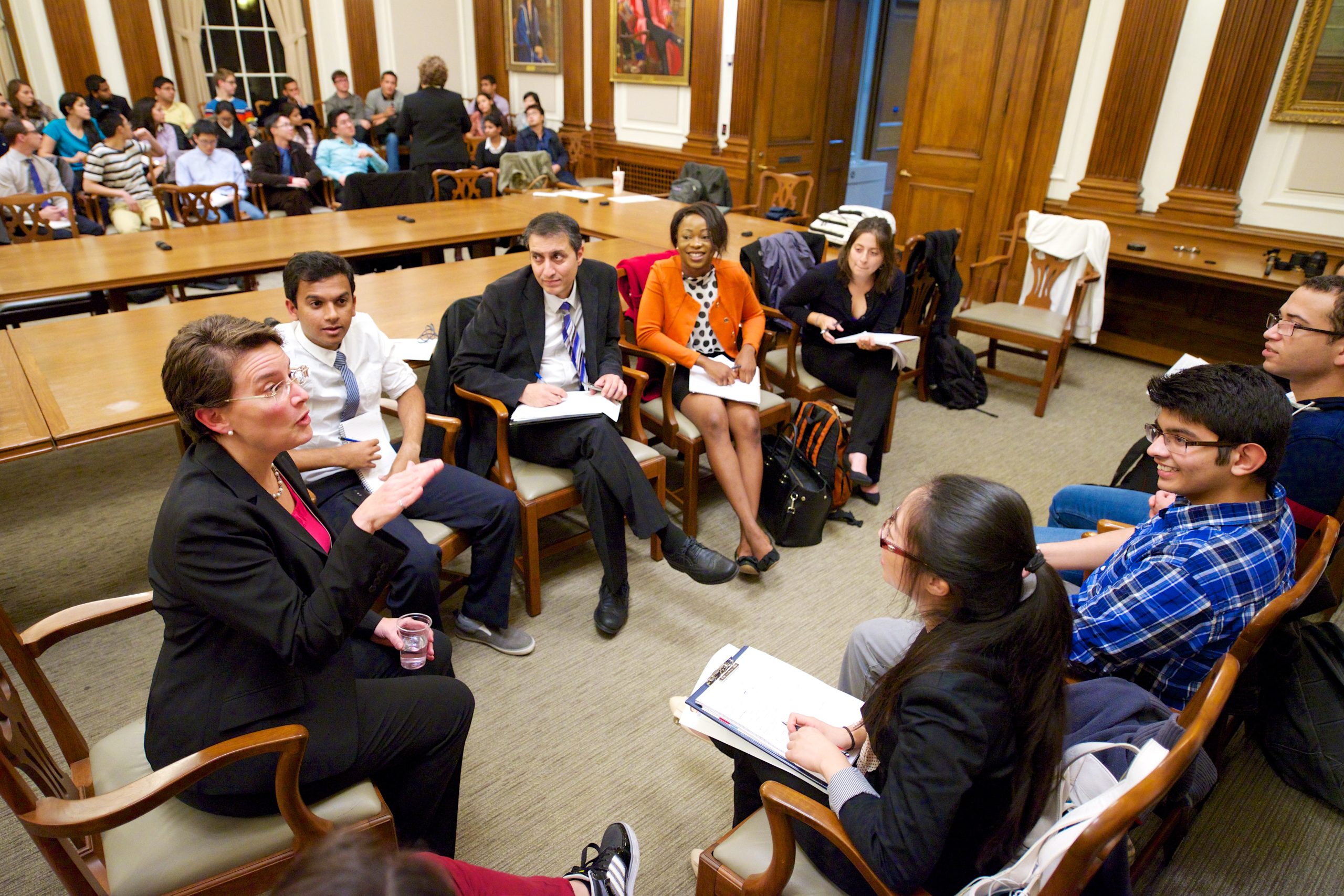 Panel conversation with senior business leaders. (2014–2015)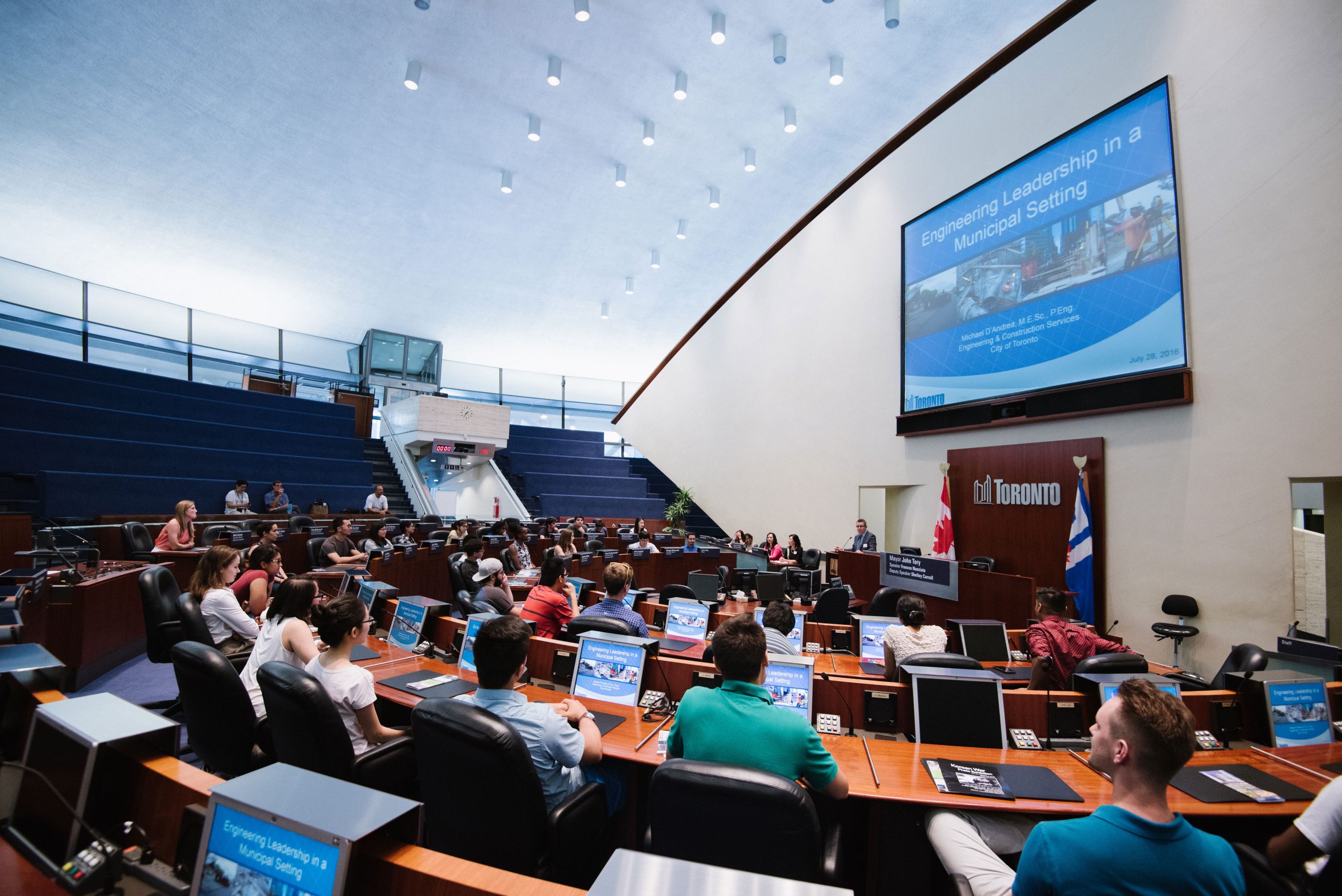 Summer program students take a trip to City Hall to learn about engineering leadership in a municipal setting. (2016–2017)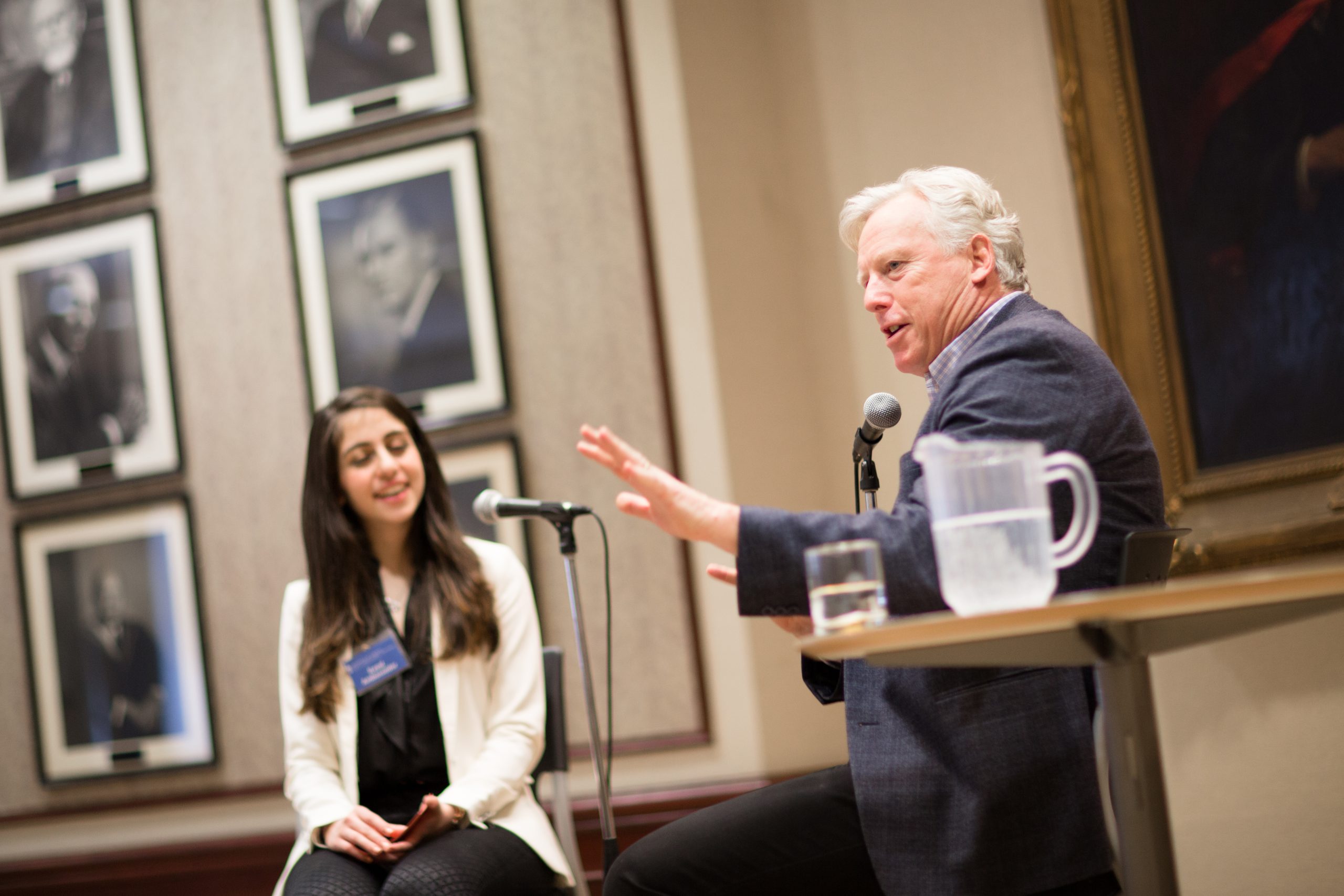 Former Toronto Mayor David Miller shares leadership lessons. (2013–2014)
ILead helped me become my best, well-rounded engineering graduate. Whether it's understanding what my values are, understanding how to approach conflict or understanding how to tell a good story, all of those individual skills play into a bigger well-rounded portfolio of what kind of person you can be. ILead does make sure that students recognize that everybody has something to share, everybody has something to teach, and lots to learn.
—MechE 1T7 +PEY
Student staff pose for team photo. (2018–2019)
Inaugural conference for NICKEL—the National Initiative on Capacity Building and Knowledge Creation for Engineering Leadership. (2016–2017)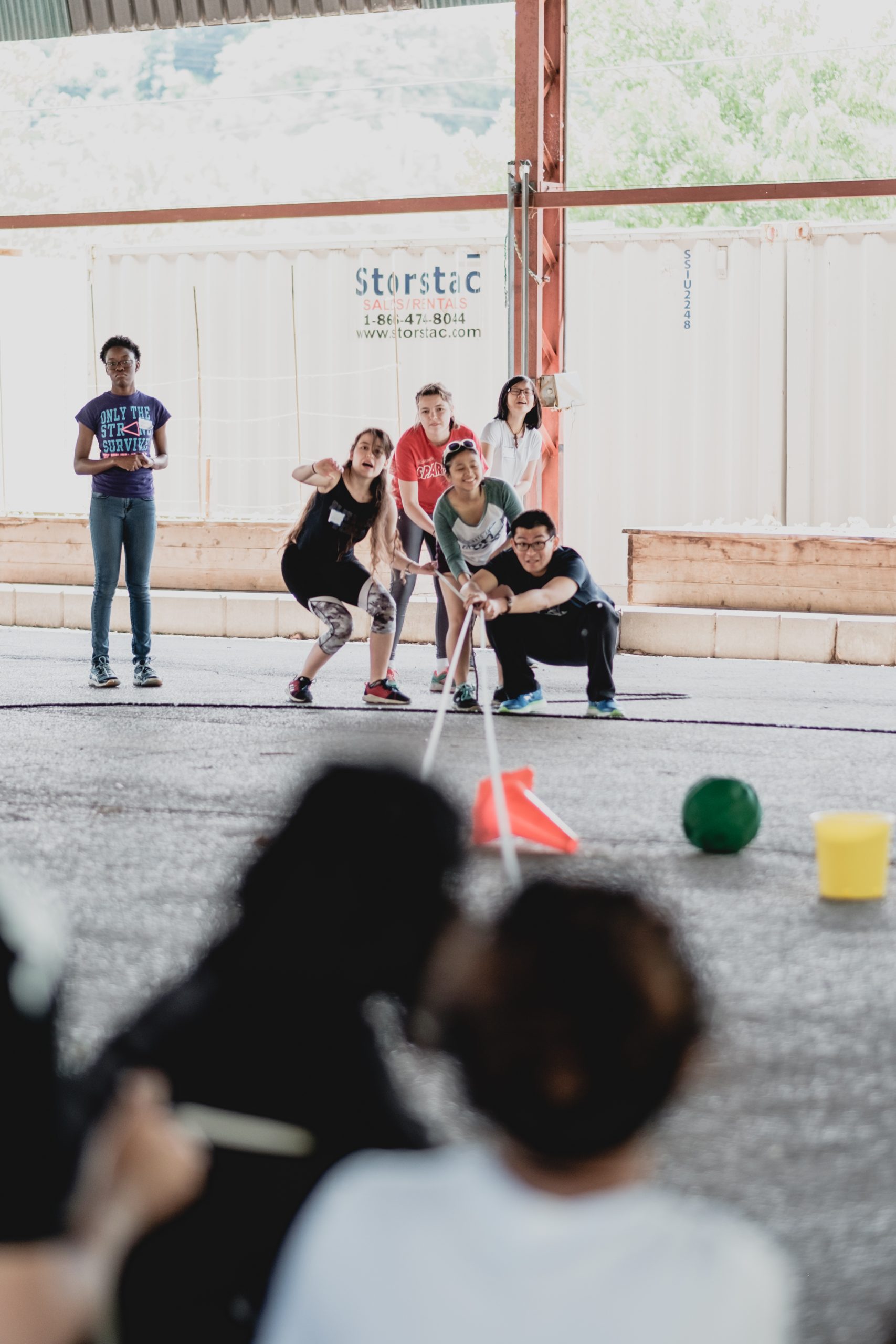 Students tackle team building exercises during experiential learning outdoors as part of the FIELD summer program. (2018–2019)
Students discuss transit problems and solutions with former TTC CEO Andy Byford. (2013–2014)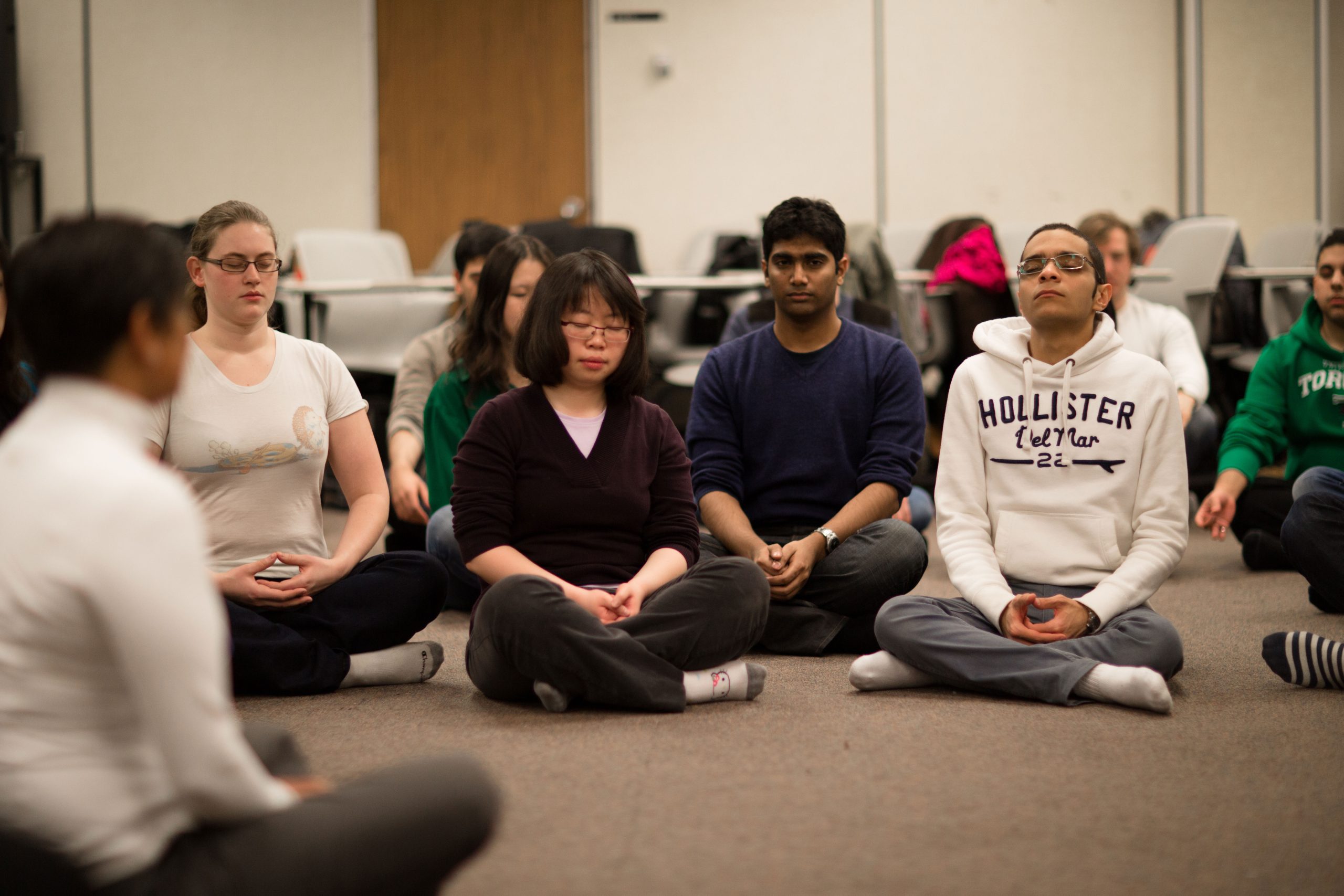 Practicing mindfulness and meditation in an engineering leadership course. (2013–2014)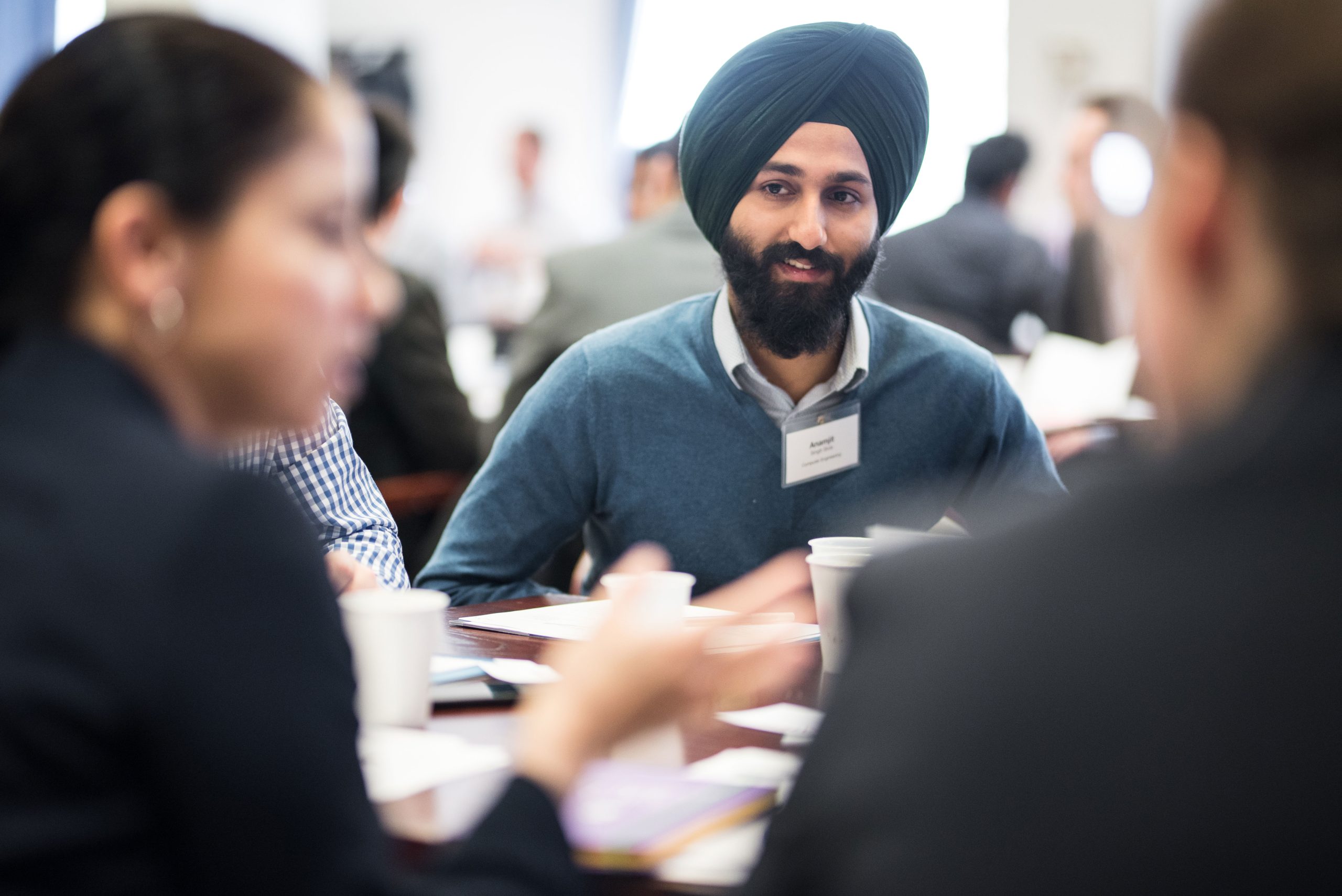 Breakout session at Community of Practice conference. (2016–2017)
Grad students take part in group learning for the OPTIONS program. (2019-2020)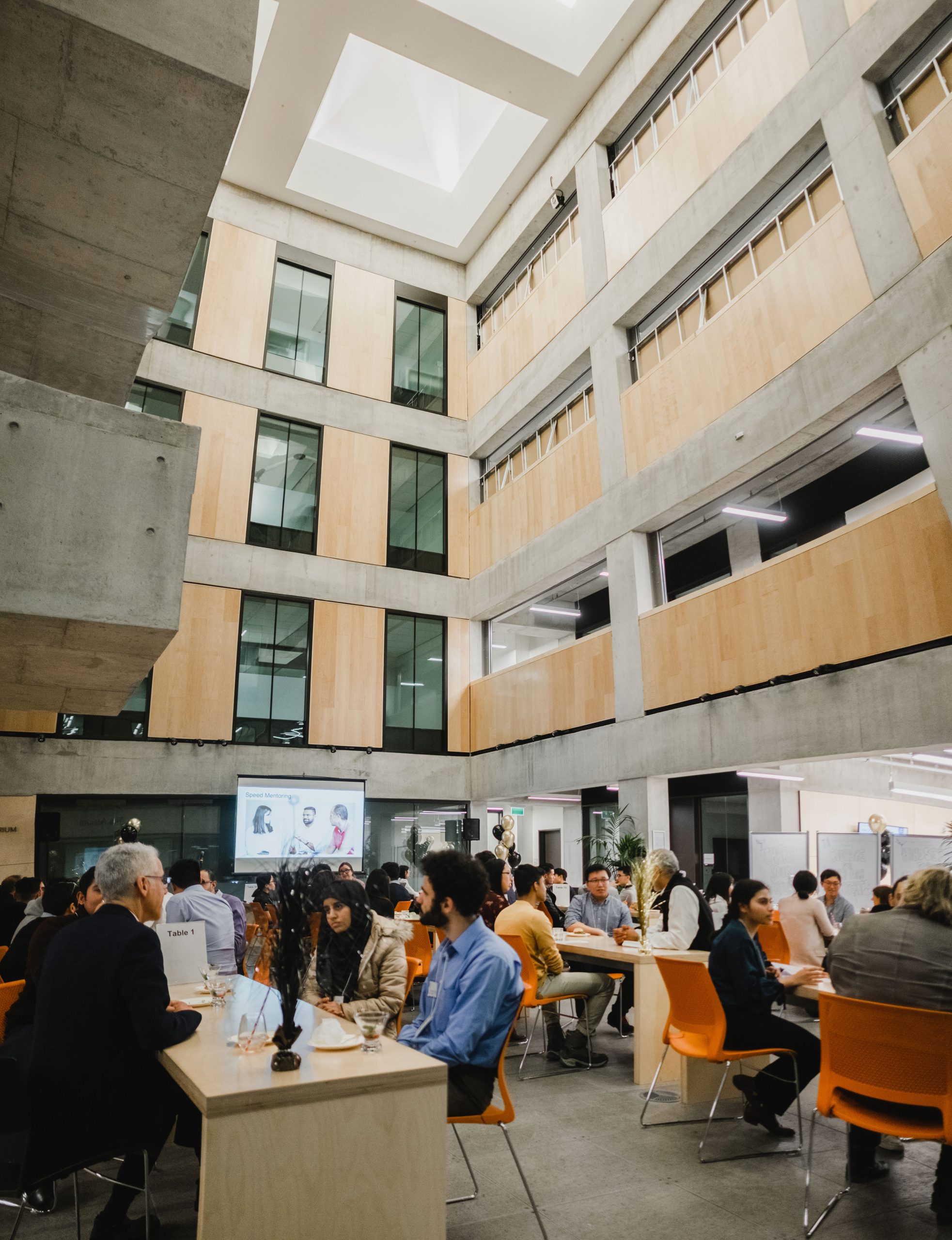 Students and professionals enjoy a speed-mentorship evening to build networking skills. (2020–2021)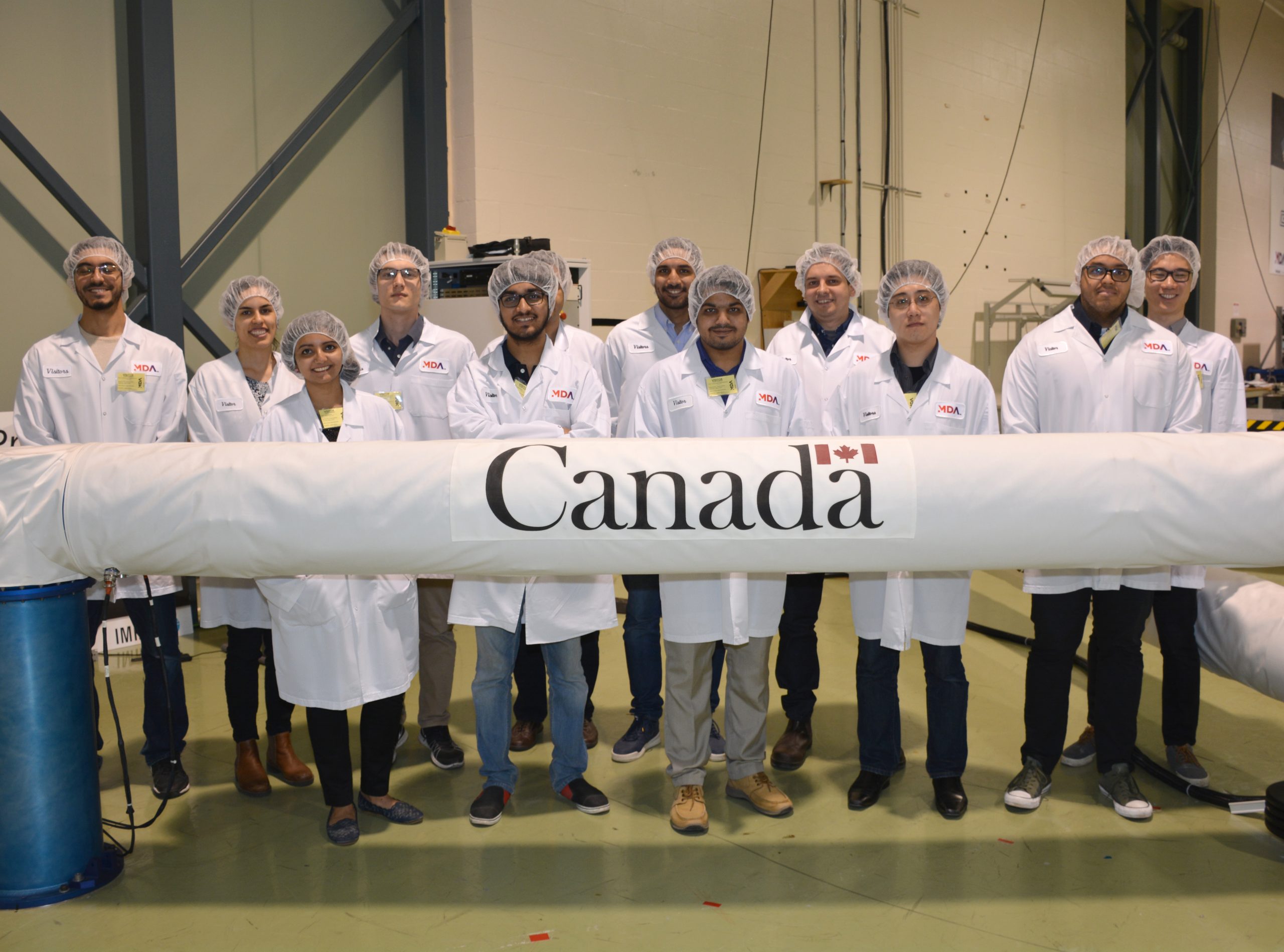 Graduate students from The OPTIONS Program visit MDA to learn about career paths after graduate school. (2018–2019)
I was in the middle of my career exploration when I joined The OPTIONS Program. For me the program highlighted the possibilities outside of the more "well-traveled" career paths and I felt empowered to explore these. Through the program I was able to recognize my skills and how they are of great value for my chosen direction in life.
—Postdoctoral Fellow, AER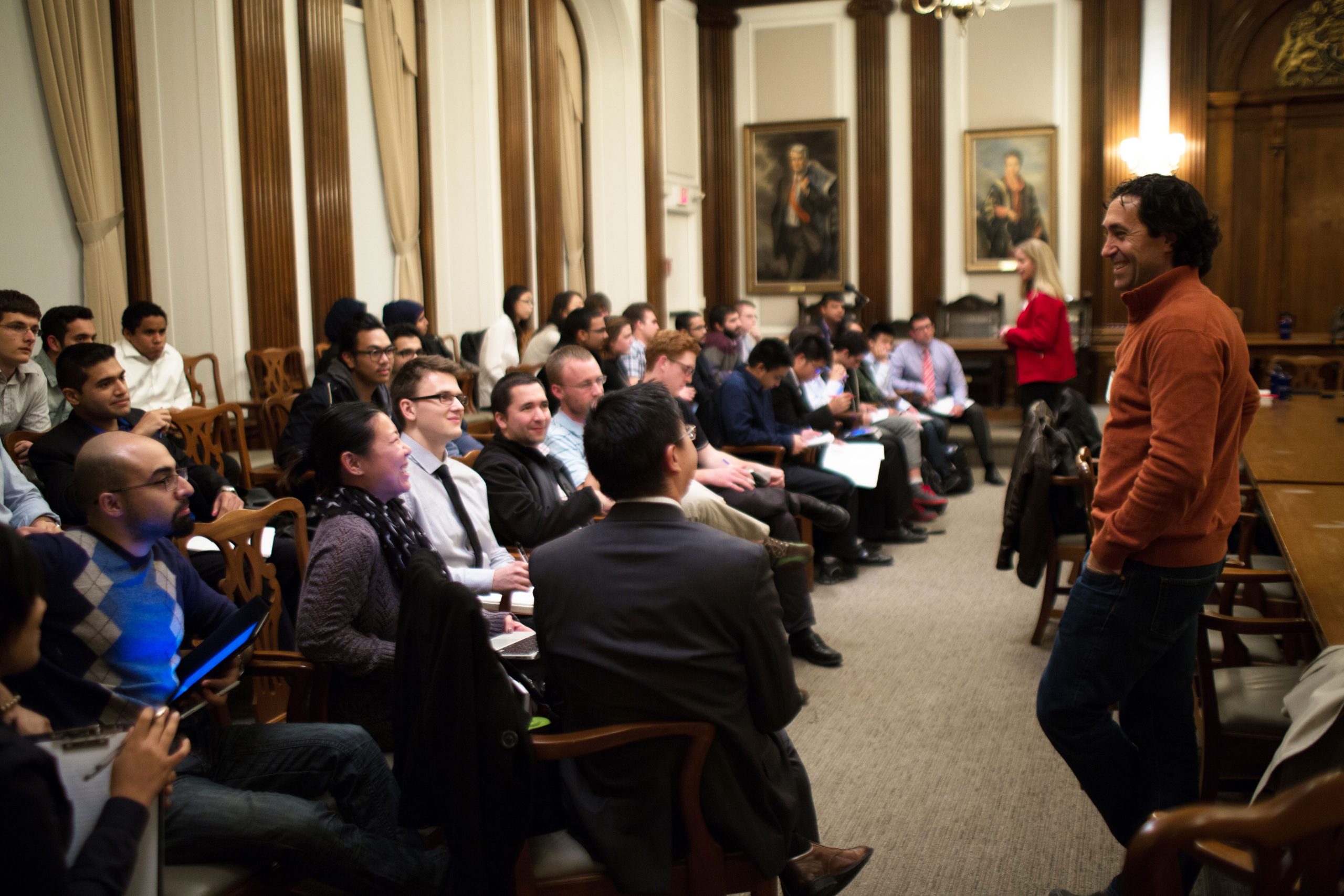 Dan Rosen, CEO and co-founder of d1g1t Inc. and Elizabeth Mills, President and CEO of Workplace Safety & Prevention Services, speak to students in our undergraduate and graduate courses in the Governing Council Chamber, Simcoe Hall. (2013–2014)
Ten years of trailblazing research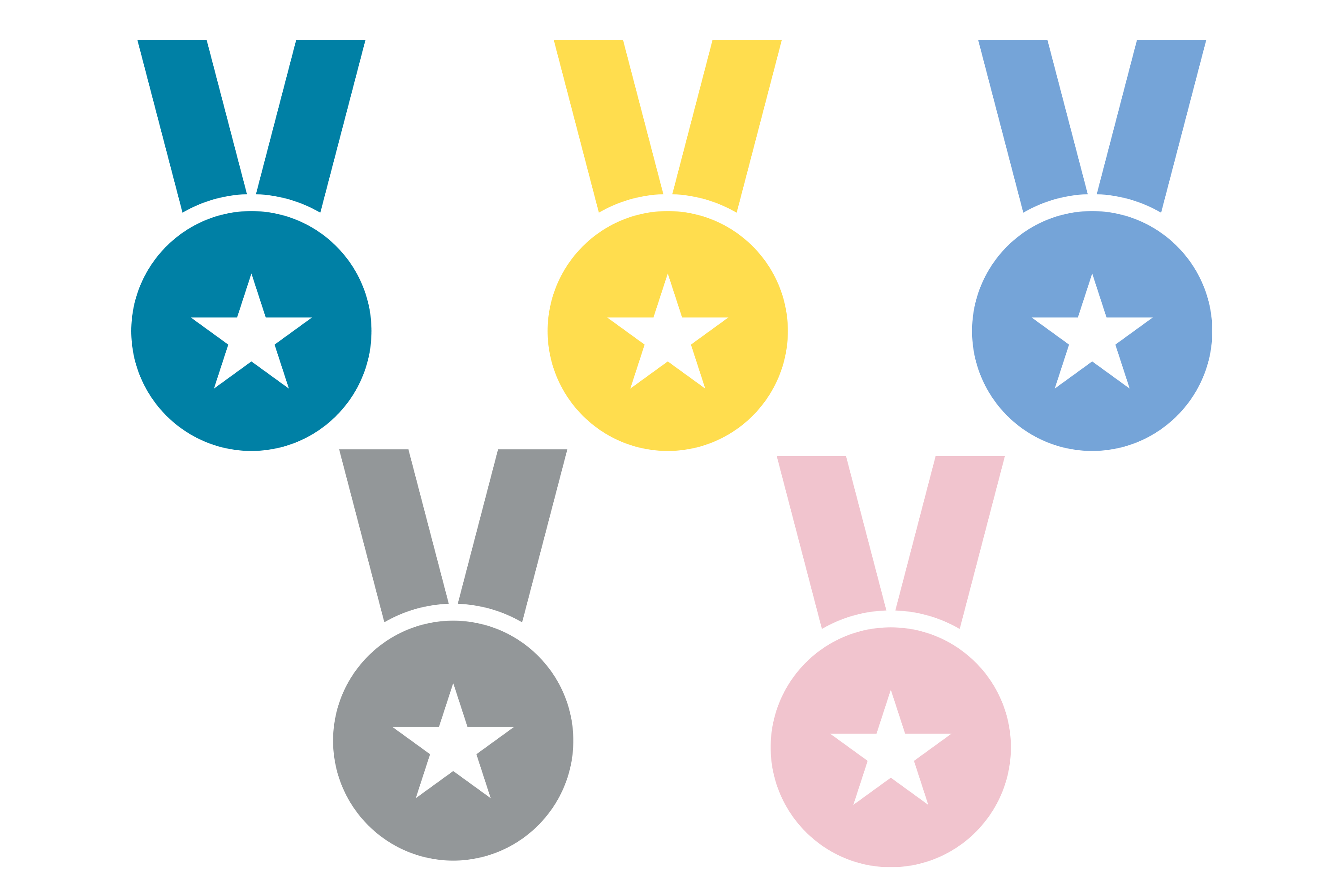 The research team has garnered five Best Paper awards.
Over the past decade, Troost ILead has brought together an interdisciplinary team of scholars to examine what engineering leadership is, how engineers learn to lead, and how barriers in the workplace can be overcome to diversify leadership in the profession.
Our findings on engineering leadership in the classroom and workplace have been widely mobilized through thousands of hours of instruction for students, industry partners and professional engineers. The leadership orientations and ethics and equity case studies, developed from our decade of scholarly work, are integrated into engineering education by universities across Canada, the United States, Singapore and Hong Kong.
We invite you to engage with our full body of scholarly work housed within the ISTEP research repository on TSpace.
Research Accomplishments of the Past Year (2020–2021)
A heartfelt thank-you to our friends and supporters
Countless groups and individuals have helped Troost ILead to become the thriving community that it is today. We would like to acknowledge just some of those individuals here.
My personal transformation from a shy student to active leader of student organizations is a living witness to the ILead team.
—MSE 1T5
Troost ILead Team: Past and Present
Indy Batth
Andrea Chan
Frieda Daniels
Jordan Daniow
Teresa Didiano
Greg Evans
Lesley Foulds
Sania Hameed
Sara-Marni Hubbard
Albert Huynh
Amy Huynh
Mike Klassen
Shailee Koranne
Serhiy Kovalchuk
Veena Kumar
Qin Liu
Milan Maljkovic
Kristina Minnella
Natalia Noël Smith
Estelle Oliva Fisher
Emily Moore
Alison Olechowski
Doug Reeve
Cindy Rottmann
Robin Sacks
Patricia Sheridan
Annie Simpson
Brian Tran
Vivian Trumblay
Adam Wray
Haig Baronikian
Dave Colcleugh
Zoe Coull
Daniel Cushing
Nick Evans
Mike Farley
Mark Franklin
Sasha Gollish
Minha Ha
Stephanie Halldorson
Samina Hashmi
Rob Irish
Penny Kinnear
Emily Moore
John Nyman
Alison Olechowski
Doug Reeve
Robin Sacks
Patricia Sheridan
Annie Simpson
Anne Marie Sorrenti
Wayne Stark
Angela Tran
Troost ILead Board of Advisors: Past and Present
Bill Blundell 
Shakil Choudhury
Dave Colcleugh
Jennifer Lancaster
Ashley Lawrence
Sanjay Malaviya
Ted Maulucci
Adria Miller
Elizabeth Mills
Sandra Odendhal
Bonnie Rose
Dan Rosen
Jason Sukhram
Bill Troost
Judy Tse
COP Partners and Donors: Past and Present
Accenture Inc
Chemtrade
Enwave
ERCO Worldwide
Google Canada
Hatch
IESO
Independent Electricity System Operator (IESO)
Kijiji
Peel Plastic Products Ltd
RL Solutions
Toronto Hydro
Vale
MDA Inc.
D. G. Allen
Richard Clarke
Brian A. Coates
Ted Cross
Levente L. Diosady
Frank A. Dottori
Gregory Evans
Kevin L. Feeney
Frank Frantisak
Claire M. Kennedy
Graeme W. Norval
Neo Performance Materials
Koch Separation Solutions
Robin W. Korthals
Mark T. Kortschot
Sanjay Malaviya
Michael H. May
Sandra Odendahl
Joseph C. Paradi
Douglas W. Reeve
Larry E. Seeley
Teresa L. Simm
James Smith
K. C. Taylor
Louis J. Tilatti
William Troost
Samoil Vohra
John W. Voss
Thank you — see you in 2022!
Find out how you can support Troost ILead.
Inspiring Leadership is the annual review produced by the Troost Institute for Leadership Education in Engineering, Faculty of Applied Science & Engineering at the University of Toronto. This publication covers the period from 2010-2011 to 2020-2021.
If the people and the work you've just read about has inspired you, please get in touch with us to learn how you can support our work. We'd love to hear from you.