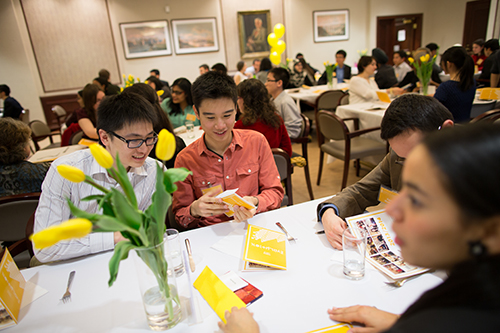 Students participate in an icebreaker activity at ILead's Annual Appreciation Night 2014 (photo by Fang Su)
How does ILead celebrate the end of National Engineering Month and a long, bitter winter? Through song, dance and food!
Annual Appreciation Night, held this year on March 27, has been a cherished tradition for seven years. It's a night to celebrate the end of the academic year, the achievements of the ILead community, and the many stories of engineering leadership. The event's theme was "evolution," referring to the myriad of ways students evolved as leaders over the year.
The evening's vibrant performances included musical numbers, social web spoofs, poignant speeches and a poetic reflection on leadership.
Graduating student Alberto Picard-Ami (IndE 1T3+PEY) shared what he learned about leadership and empathy through his participation in ILead programming:
"Empathy is defined as the ability to understand and share the feelings of others, to take on their perspectives and see the world through their eyes. Empathy is the core ingredient to understanding, and being able to understand the needs, strengths, and goals of your team members is critical to be able to lead them. Leading begins with a foundational focus on your team, not with you."
Third-year student Yee-Wei Foong (MSE 1T5) delivered a touching speech about how much ILead has helped him on his leadership journey:
"I am actively involved in leadership workshops, ILead MSE, and the ILead Cross-Faculty group. Through these involvements, I had grown deeper into leadership and learned about conflict management, event facilitation and much more. I know that a leadership journey is not easy. Sometimes I may fall; sometimes I may stumble. But I never give up on pursuing the leadership journey because I know I have all of you always standing by my side, always supporting me."
ILead also took the opportunity to explain that it is retiring the "Leaders of Tomorrow" name to reflect the evolution of the program. It is committed to blazing ahead, however, with the same commitment to teaching students the leadership skills that will serve them for life. Bearing witness to this commitment was Dean Cristina Amon, who joined the festivities.
This year's celebration was organized by the Annual Appreciation Night Planning Committee, which consisted of student leaders Israa Abd El-Fatah (MSE 1T6), Matt Dolowy-Busch (MinE 1T5), Lamya Ezzeldin (ChemE 1T5+PEY), Yee Wei Foong (MSE 1T5), Will Lee (MSE 1T5), Joanna Ropero (ChemE 1T3+PEY), Alvin Virya (MSE 1T5), April Zhang (ChemE 1T4), and ILead staff Estelle Oliva-Fisher and Amy Huynh. It truly took a dedicated team to pull off such a creative, well-choreographed and inspiring event.
Annual Appreciation Night celebrated student success. Furthermore, it emphasized the support system that comes with being part of the ILead community. What a fitting way to mark the end to National Engineering Month and usher in the long-awaited arrival of spring.
Related story: 10 Signs You're Part of ILead