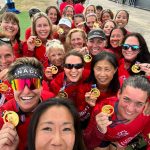 In the Chinese zodiac calendar, year of the dragon begins again in February 2024. But for ISTEP Operations Manager, Elizabeth Whitmell, year of the dragon arrived a bit early.  
Whitmell and her Team Dragon Boat Canada teammates returned home from the International Dragon Boat Federation (IDBF) 16th World Dragon Boat Racing Championships in Thailand in late August with an incredible four gold and three bronze medal haul, setting a new world record in the 500 meter along the way.  
"Our coach commented on more than one occasion that we [Canada] had such a strong team," said Whitmell. "But he didn't put pressure on us to break a world record, just to believe in ourselves!" 
With four years since the last IDBF World Championship – due to competition interruptions related to the global pandemic – spots on the podium were hotly contested. Literally. All in, daily temperatures at the site of the competition, the Royal Navy Kayak and Paddling Centre in Pattaya, Thailand, were in excess of 40 degrees centigrade.  
Whitmell and her fellow international paddlers from 19 countries had only three days of practice on the course to acclimatize. At the conclusion of the competition, Team Canada emerged as overall champions with 52 gold medals; China was second with 30 gold.  
"I have to say that hearing 'Oh Canada' over and over and over again does not get old," Whitmell recalled, smiling.  
"You can hear it wherever you are on the grounds when medals are being presented and we heard it a lot that week." 
The sport of dragon boat racing originated over 2000 years ago in China and began international competition in 1976 with an inaugural championship in Hong Kong. Traditionally constructed of teak wood, dragon boats were rigged out with decorative dragon heads and tails. In modern competition, boats of 8-10 or 18-20 paddlers now compete with watercraft constructed from fiberglass, carbon fibre and other lightweight materials.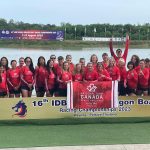 High performance athletes train 11-12 months a year with local club-based teams and can compete within teams at national and international level competitions, but must try out every cycle to make national teams for international competition. After a gold medal sweep in 2022 with her local club at the IDBF 13th Club Crew World Championships in Sarasota, Florida, Whitmell made the Dragon Boat Canada team in 2023 at her first attempt.  
"Usually national teams are comprised of about 75 per cent returning paddlers, but this time 40-50 per cent of the squad was new," recalled Whitmell.  
"Age categories only exist at top level competition and I competed in the Senior A (O40) Women's and Senior B (O50) Mixed boats. Our Senior A Women's team won gold at every distance available – 2k, 1k, 500m, 200m – and broke a world record in the 500m! Our Senior B Mixed team won three bronze medals and came fourth in the 200m."      
"Being in Team Canada with likeminded people from Victoria to Nova Scotia was just incredible," concluded Whitmell. "A dream come true."
Are you interested in dragon boat racing at University of Toronto? There are multiple recreational and competitive teams, including: Iron Dragons, New Dragons, University College Dragon Boat Club and UTSC Crimson Tide.