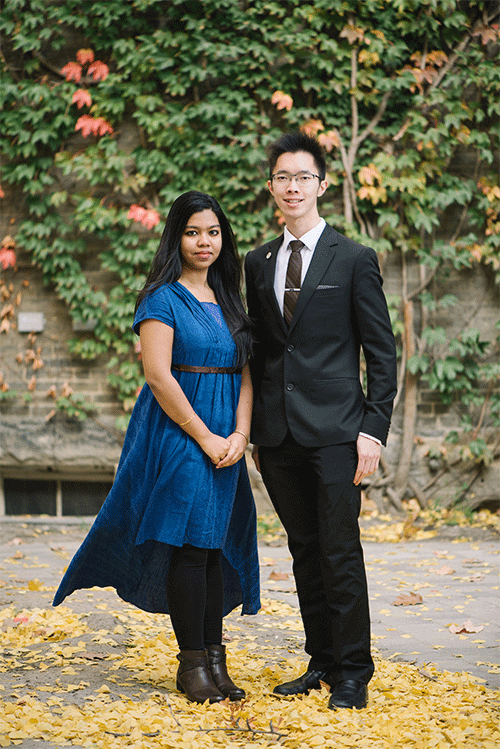 ILead:Grad is a student organization lead by graduate students for graduate students. Their vision is "everybody is a leader" and they accomplish that vision by hosting workshops where graduate students can refine their personal and professional skills. I spoke to the co-chairs of ILead:Grad,  Yee Wei Foong (MASc, MSE) and Muneera Chowdhury (MEng, ECE), about their experiences with leadership and reflections on leadership education.
How did you get involved with ILead?
Yee Wei (Y): I got involved with ILead in my second year of undergrad when I took APS343: Engineering Leadership with Professor Doug Reeve. I then joined various ILead programs over the years and became the Administrative Director of ILead:Grad.
Muneera (M): I became interested in ILead:Grad when I was sent an email about upcoming events. After attending these events I started to see myself in a different light. I was inspired and decided to apply for the co-chair position.
What is the advantage of leadership education for engineers?
Y: Engineering students typically come to university to gain a set of technical skills, but they also need to learn crucial soft skills that will help them succeed in their careers. To achieve this students need to know how to lead themselves. Also, as engineers we must work in team environments, so understanding the behavior of team members and having a flexible personality allows you to work better with others.
M: Self-discipline is a great factor of leadership. Sometimes engineers and other technical people get carried away with their idea and lose focus of what needs to get done. Leadership starts with the self, so if you are self-disciplined and know how to get the word across, you can excel.
How do you and your team work together to achieve the goals of ILead:Grad?
Y: We established our team's core values by asking everybody on the team what their core values are and then picking one that resonated with everyone. We then used this to establish our vision for the year. In this way everyone feels like they belong to the team and are connected and committed.
M: We also recently started the Team Caring Project. We have regular, informal check-ins with team members individually to make sure they are happy and satisfied, as well as gather more candid feedback. We feel that it is important for us to connect to our team on a deeper level so they can feel more engaged.
How has learning leadership skills benefited you in life, school, and work?
Y: As a grad student you have to take ownership of your own project and learning. After I started learning about leadership I discovered my values, how to manage my time, and how to interact professionally with people in positions of power. But most importantly, I also understand how to talk to people in a way that relates to them and speak about topics that match their desires and values in order to create better connections.
M: In group projects in school and my internship I try to listen to everyone to see what they want to do and what they have to contribute. My communication skills have improved and I know how to confront people without offending them and still ensures all the work gets done.
What does leadership mean to you?
Y: To understand yourself and your core values, as well as inspire others to achieve higher values.
M: Self learning – how to bring out the best in you and others.
How do you work towards becoming better leaders?
Y: Constant self reflection. I consistently look for ways to improve and reflect over things that went well. I also talk to people about the importance of leadership to them. And of course by reading books, talking to mentors, and listening to inspiring people.
M: Becoming a leader is a constant learning process. I push myself towards becoming a better leader by listening to inspiring ideas.
-Namya Syal