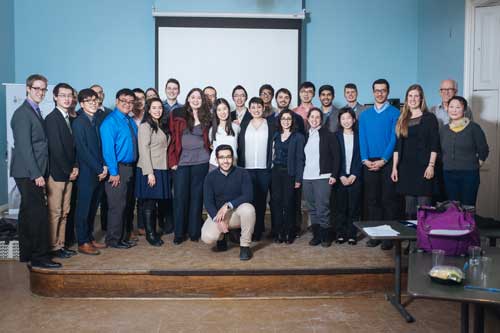 The incredible Game participants, mentors, and judges (Photo: Alan Wu).

After nearly six months of working on their projects which they envision will "change the world," the Gamers showcased their final presentations in front of peers, mentors, U of T Engineering staff and faculty, and a panel of three judges: James Haga (VP Strategy and Investment, EWB Canada), Hyun-Duck Chang (Information Manager, MaRS Solutions Lab), and Catherine Riddell (Executive Director of Communications, Faculty of Applied Science and Engineering).
The final presentations took place on March 5 in the Cumberland Room at the Centre for International Experience. Each team presented their idea (read more about the projects), hoping to take home the grand prize of $5,000 to share amongst team members.
After all teams presented, the judges had the difficult task of deciding on the winning project. The judges awarded the prize to Team 2, consisting of Bowen, Amy, Deniz, Noor and Omar. They explored the disconnection between people's awareness of social issues and their ability to actually contribute something meaningful to solutions. Their solution was an online platform called canACT. The team impressed the judges and they were awarded the $5000 prize and title of winners of The Game!
When asked what The Game taught them, members of the winning team had something different to say:
"The Game taught me importance of setting team values and staying true to them in the face of challenges." -Deniz Jafari (EngSci 1T5 + PEY)
"The Game taught me that sometimes you need to stand up and make a decision that will move the team forward." -Noor Shaikh (EngSci 1T6)
"The Game taught me to realize my dream and to develop the drive and skills to chase it." -Jiawei Bowen Le (Chem 1T6)
"The Game taught me passion, persistence, and patience is the only way to success." -Tianyuan Amy Li (CivE 1T5 + PEY)
"The Game taught me that leadership is an experience about humanity. Cooperation is about exercising tolerance and communication is about exercising patience." -Omar Khan (ECE 1T7)
The other amazing ideas presented included: a solution to help students deal with stress; Lecture Bee, an app to help students and professors communicate effectively in the classroom; a workshop program helping students uncover their 'unconscious bias'; and a program that seeks to tackle the homelessness issue in the city.
As a participant in The Game, I knew that being a winner or not didn't really matter. What really mattered was the overall experience it had to offer. Through interactive workshops and panel talks, I had the opportunity to learn about the nature of solving complex problems, hear about other people's leadership journeys, and facilitate a pilot focus group session with my team. In addition, I learned more about myself, fostered new relationships, and learned how to apply my skills as an emerging leader in order to create change to build a better world.
Moving forward, I look forward to even greater challenges in life after experiencing The Game. In university, you are taught all the essentials ranging from coursework, technical skills, people skills, communication skills, etc. However, things get much more complicated when you try to solve a "real world" problem. I think The Game taught everyone involved that when it comes to solving problems in society, you have to take into consideration multiple perspectives and try to devise a solution that integrates all of them in a way that creates positive change. And along the way, there will be challenges, struggles, and frustrations. The Game taught all of us that whatever we wish to aspire to and pursue in our lives, we should never ever give up on those dreams, because all that hard work will eventually pay off.
-Kevin Saludares