Engagement Manager | Quinn + Partners Inc.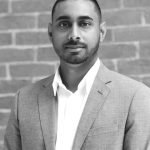 Jason has dedicated his career to proving that we can reimagine business and finance to be a force for positive social change. At Quinn+Partners', Jason is an Engagement Manager and leads the firm's Impact Services. He has extensive experience advising clients across industries on how best to embed social and environmental considerations into their operational, investment, measurement and reporting strategies to intentionally improve outcomes for people and the planet, while generating financial returns. His client work at Quinn+Partners has included building company impact assessment approaches for a pension fund, and helping various corporates and investors build on their ESG strategies to quantify and manage their positive social impact.
He joined Q+P after nearly 5 years with the MaRS Centre for Impact Investing, where he advised clients across sectors on how to attract and deploy capital to measurably improve outcomes for people and the planet. At MaRS, he led numerous systems change and market building initiatives to support the growth of the Canadian impact investing market and built MaRS' impact measurement and management advisory practice. He is a leader in outcomes-based funding models, having supported the design and launch of numerous social impact bonds to address various social issues. He has also worked extensively in international development having co-authored articles on innovation and entrepreneurship in global health, and working with the Clinton Foundation's poverty alleviation initiative to build agricultural social enterprises in Latin America, Africa and Asia.
As a student, Jason was an active iLead participant by supporting cross-faculty initiatives and establishing a student working group within the MSE Department. He also completed his  BASc and MBA at UofT through the Jeffrey Skoll BASc/MBA Scholarship program.