Interim Chief Engineer and Executive Director | Linear Underground Infrastructure in Engineering Construction Services, City of Toronto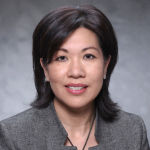 Judy is the Interim Chief Engineer and Executive Director of Engineering Construction Services with the City of Toronto, responsible for engineering and construction services in delivering safe, sustainable municipal (road, bridge, water, wastewater, storm water and solid waste) infrastructure that contributes to a high quality of life for the residents of Toronto. She provides strategic and operational leadership to a team of professionals and technical staff in delivering $1B of municipal infrastructure programs annually. Prior to that, Judy was the  Director of Engineering Review overseeing the delivery of engineering services in support of City building through the review and approval of land development applications and transit expansion programs.
Judy graduated from the University of Waterloo in Civil Engineering and is a licensed professional. She started her career in the private sector followed by the City of Vancouver before joining the City of Toronto in 2003 working in Transportation Services, Toronto Water and Engineering & Construction Services where she held several diverse and progressive leadership roles.
In 2018, Judy founded and launched the Women in Construction Chapter of the Toronto Public Service Women's Network which provides a forum for women and equity seeking groups in the Toronto public service and its partners for sharing experiences, career development, mentorship, and outreach. In 2019, Judy led the charge in the creation of an Equity, Diversity & Inclusion Action Plan for Engineering and Construction Services.