Thank you to our 2022 participants! See you next year in summer 2023.
Build your strengths as a communicator, relationship-builder, teammate, and community member at this summer program. 
---
Who is Leadership Inside Out for?
If you hesitate to think of yourself as a leader, come explore new ways to make change from the inside out. 
ILead's Leadership Inside Out Program offers U of T Engineering students an opportunity to explore new angles of leadership, and to forge their own unique leadership pathways. The program is for students who hesitate to claim a 'leadership identity', and for whom traditional leadership models may not always resonate.
---
Program contacts:
Natalia Noël Smith, natalianoel.smith@utoronto.ca
Vivian Trumblay, vivian.trumblay@utoronto.ca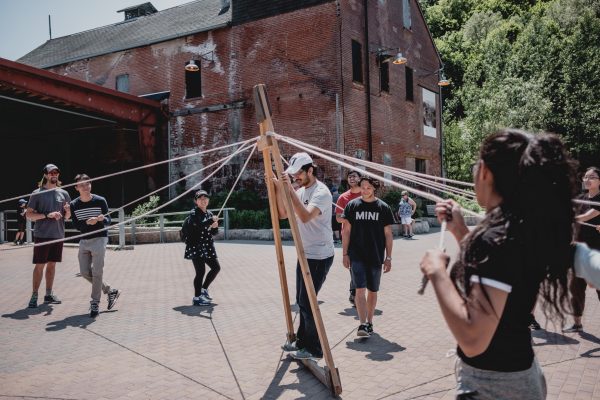 Summer 2022 Session Details
Build your strengths as a communicator, relationship-builder, teammate, and community member over these sessions.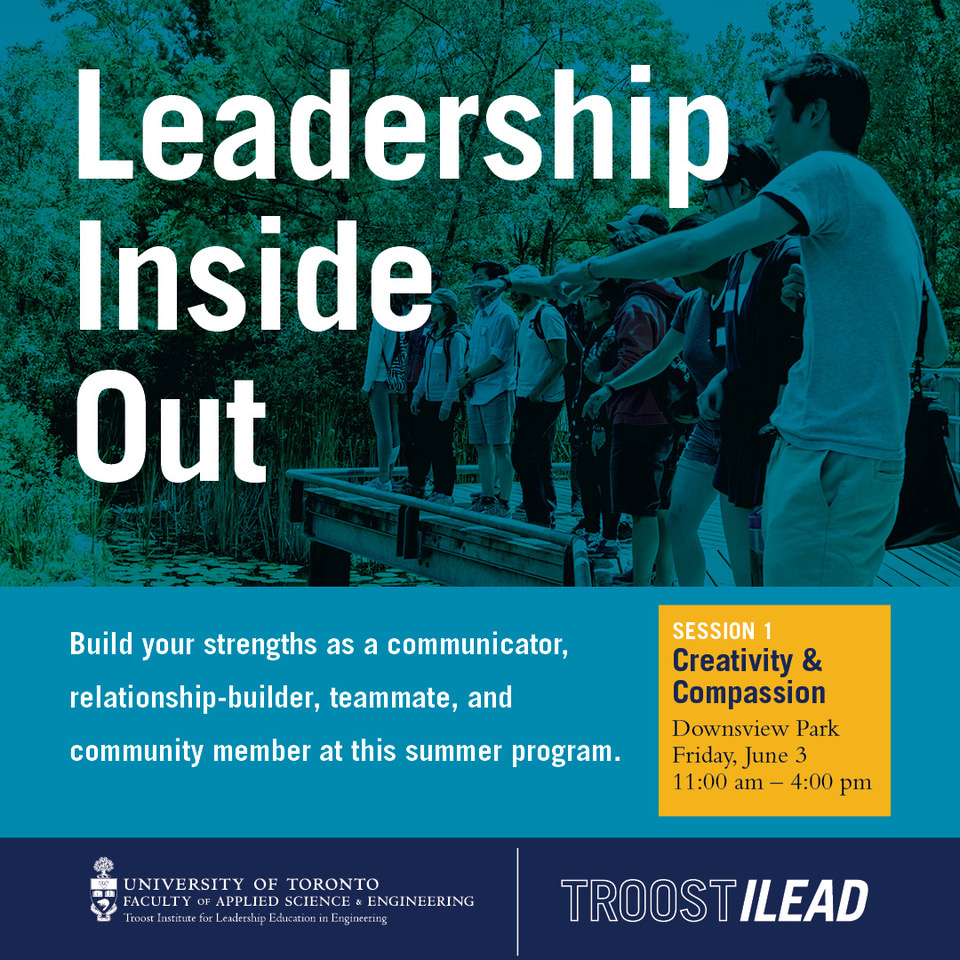 Strengthen your self compassion through Land Art at Downsview Park. Using materials found in nature, you'll learn how you can transform compassion for the environment to compassion for self by creating an immersive art piece. You will:
Learn to use self compassion during the Skule year

to honour your personal background and personal

strengths.

Learn to share with others where you are coming

from while respecting your own boundaries.

Devote time to building your self confidence

through appreciation of yourself.
Date: Friday, June 3
Time: 11:00 am - 4:00 pm
Lunch: Bagged lunch provided.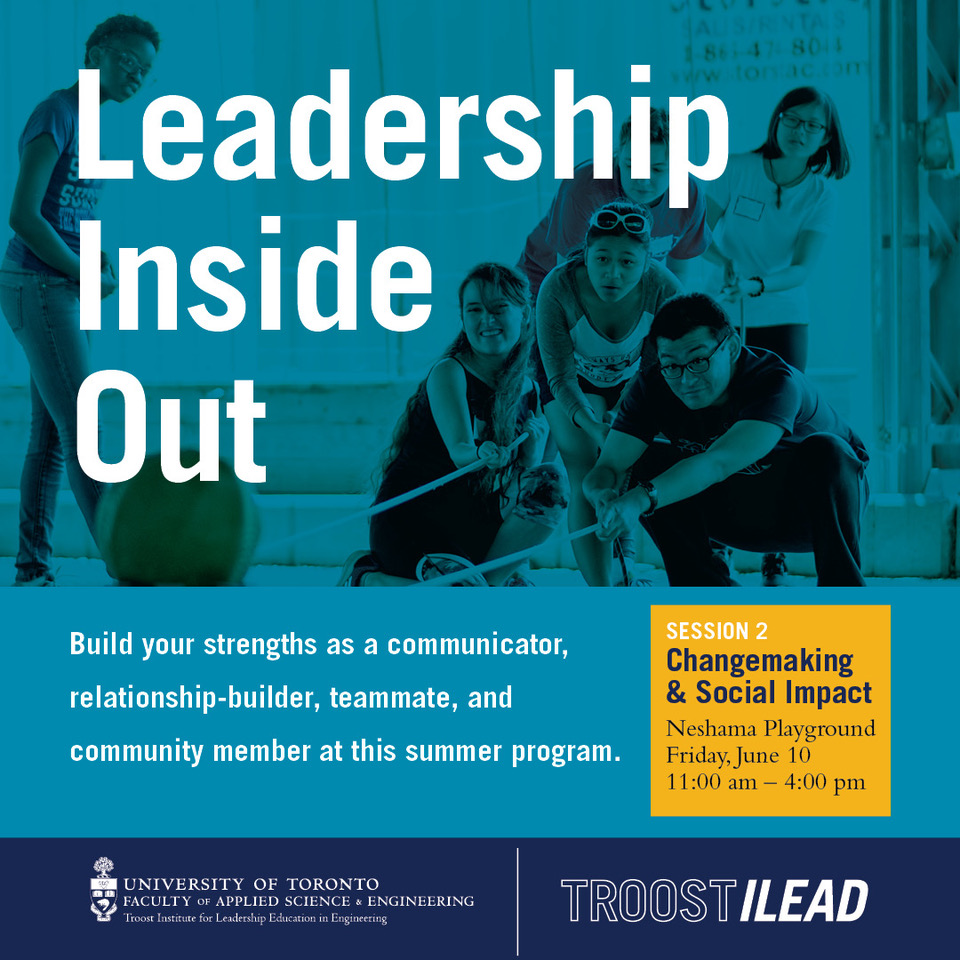 Imagine another world and ask how to create one with a tour of the fully accessible Neshama Playground.
City Councillor Josh Matlow and City of Toronto staff will join us for an outdoor Q&A about the development of the playground, which is designed for families of diverse abilities. You will:
Learn how design, engineering and policy can come together to create tangible, positive neighbourhood change using a real-life example.
Explore the concept of "imagining otherwise" to push the boundaries of your own creativity.
Dedicate time to thinking big or to begin brainstorming your visions for change as an aspiring engineer.
Date: Friday, June 10
Time: 11:00 am - 4:00 pm
Lunch: Bagged lunch provided.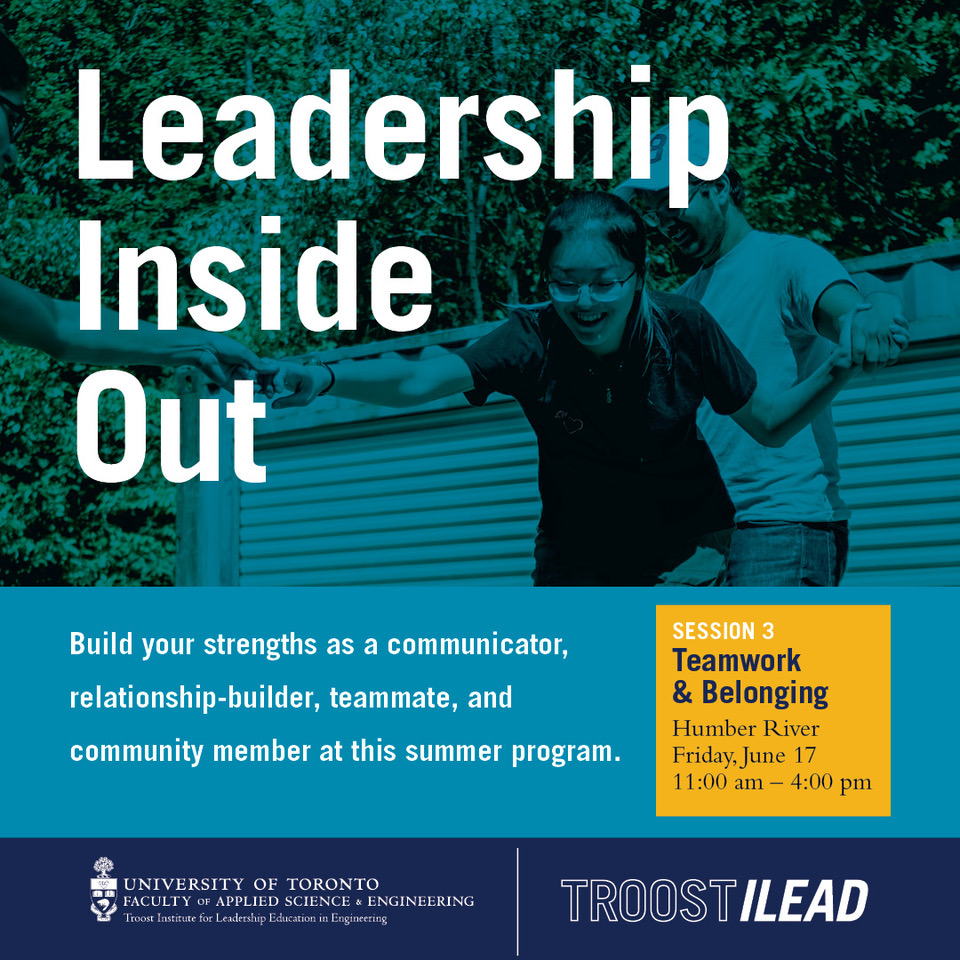 Experience new dimensions of teamwork on the Humber River. You'll get a paddling lesson and venture out on the river with your fellow students. You will: 
Learn strategies to develop confidence in your own voice, so that you can communicate in a team.

 

Learn what you value most in a team. so that you have the building blocks to help create positive team environments.

Learn to identify features of teams that are comfortable and productive for you, so you know what you want to look for as you plan your future career.

 
Need an accessible option? Contact Natalia at natalianoel.smith@utoronto.ca.
Date: Friday, June 17
Time: 11:00 am - 4:00 pm
Lunch: Bagged lunch provided.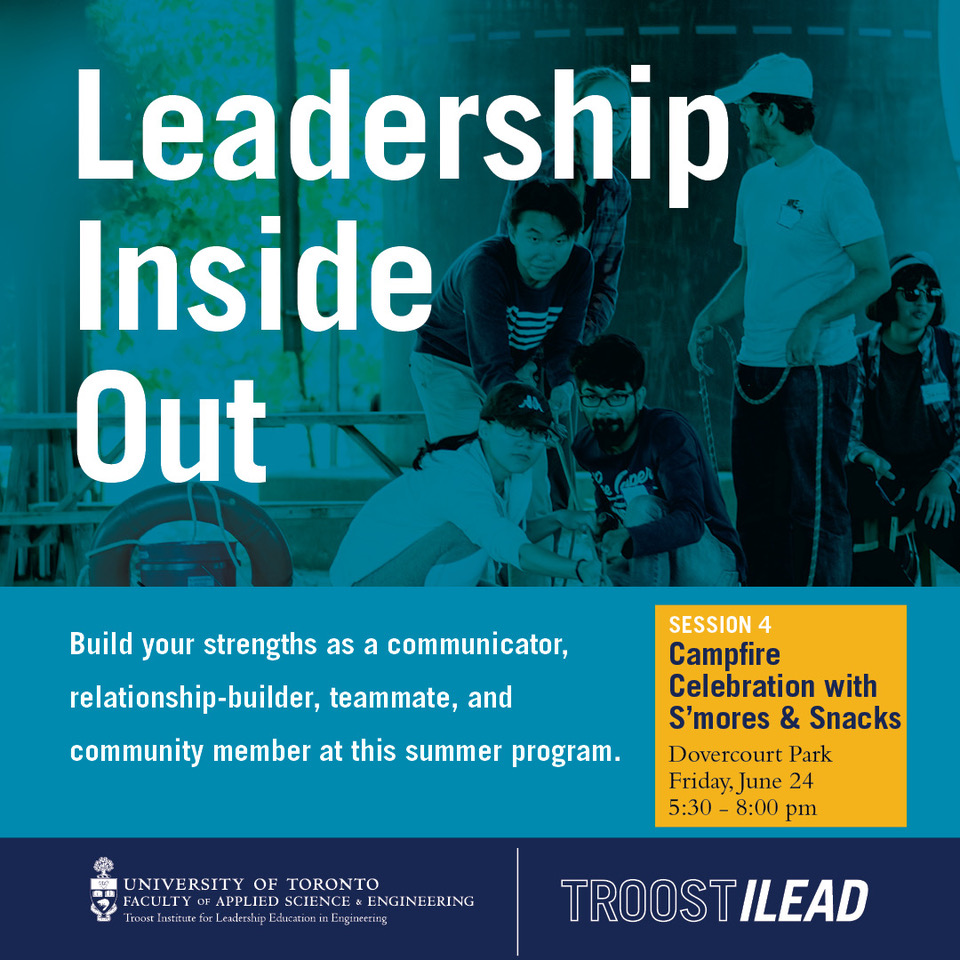 Become your own wise teacher by synthesizing what you've learned. Sit around the campfire to celebrate and share your summer experience. You will: 
Celebrate your Leadership Inside Out experience alongside your new community!

 

Enjoy s'mores and campfire snacks. 

 

Have fun by engaging in activities like writing a new personal CV that expresses the leadership strengths that you have identified in yourself and others this summer.

 
Date: Friday, June 24
Time: 5:30 pm - 8:00 pm
Lunch: Campfire snacks provided.
Follow these 3 steps to secure your spot:
Step 1: Complete the registration form at the link above by Sun, May 22nd 11:59PM EST.
Step 2: Submit your $20 program deposit to Myhal room 772 and pick up your Inside Out Adventure Pack by Sun, May 22nd 11:59PM EST.
Submitting your deposit holds your spot in the program! You will receive your deposit back upon program completion, so long as you attend all sessions that you registered for.
Deposit submission times:
Thurs, May 12 between 1-4pm
Tues, May 17 between 1-3pm
Wed, May 18 between 10am-3pm
Thurs, May 19 between 10am-3pm
Tues, May 24 between 1-2pm or 3-4:30pm
Thurs, May 26 between 10am-12pm or 2-4pm
Step 3: Check your email for registration confirmation and details for your participation by Mon, May 30th.
Note: Program spots are limited. Spots will be granted on a first come first served basis. Priority for field trip spots will be given to students who commit to attending all program sessions. Wait-listed students will be contacted should a field trip spot become available.