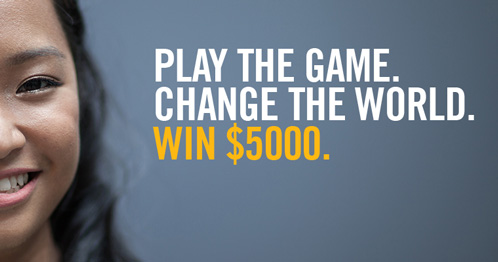 This story was originally posted on U of T Engineering News. Read the original story.
On March 5, a team of five Engineering students took home $5,000 at ILead's The Game showcase. Presenting an idea for an online platform that links socially-minded individuals with volunteer opportunities around the world, they were one of five teams that tackled societal challenges and competed for the grand prize.
Organized over six months through the Institute for Leadership in Engineering Education (ILead), The Game encouraged engineering students to approach large-scale social projects the same way they would technical ones: by bringing together different perspectives, examining many possible scenarios and working as a team. Their projects ranged from addressing homelessness in Toronto to increasing mental health awareness at universities.
"At the core of The Game was a societal challenge: for students to frame and design a project that lived up to their version of a better world," said Mike Klassen, leadership programming consultant at ILead and one of the key organizers of The Game. "Surrounding that core were a variety of resources designed to help students better grasp the depth and complexity of the challenges they chose to solve."
Participants of The Game attended seminars, speakers series and had access to networks of experts and mentors. ILead instructors only released information to the teams every few weeks, almost as if they were clues for a game—hence the name. The idea stemmed from a desire to enable students to better implement the Institute's motto: Engineers leading change to build a better world.
"I didn't know what The Game was about when I signed up for it—none of us did," said Deniz Jafari (EngSci 1T5+PEY), a member of the winning team.
"We've learned so much during this experience," added her teammate Noor Shaikh (EngSci 1T6). "It's amazing what you can do when you take the time to focus on something you're really passionate about."
Other projects included Lecture Bee, an app that enables students to participate in class via smartphone, and a unique program aimed at reducing unconscious bias among university students.
"THE GAME has been a new experience for us. In fact, it was a bit of an experiment," said Annie Simpson, ILead's assistant director. "We work a lot on teamwork and self reflection at ILead, but [The Game] is about how to apply those skills to make the world better. Societal leadership at this scale is new for us."
The Game is one of the latest transformative learning opportunities from ILead, an institute that offers pioneering learning offerings to help engineering students develop critical competencies in leadership, collaboration, communication and problem solving. In 2014, their contributions to engineering education garnered them the prestigious Alan Blizzard Award for Collaborative Teaching.
"We hope to continue with social leadership programs like The Game in the future," said Simpson, who noted that she and her colleagues were amazed by the calibre of the projects, and the commitment of the participants despite all the uncertainty.
"It was a huge success with the students. Even though it was not for credit, they stuck with it and made some truly outstanding projects. Our biggest challenge was having to choose a winner!"
-Sydney Goodfellow