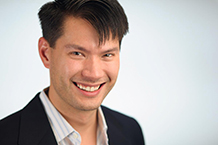 On November 28th, ILead is hosting a Leadership Lab called Industry Panel: What Skills Matter? Over the course of November, we will feature interviews from the four panelists. This week we will hear from Ashley Lawrence – CFO at Kijiji Canada and Board of Advisor for ILead.
Who or what inspires you?
I'm inspired by the extreme, that's where life is lived. That can be on either end of the spectrum; be it in a hole in the wall or a 3-star Michelin restaurant, crushing a 5K or a marathon, or just going all out at something.  It's amazing the potential we all have and too often we settle for mediocre.
What do you look forward to every morning when you wake up to go to work?
I have a pretty standard weekday morning routine I look forward to daily.  I'm up between 5AM – 6AM to work out, read the paper, have breakfast with my wife and I try to steal some internet surfing time before the kids get up. I then walk my kids to school and it's fun starting the day talking with them about the big things in their world (cars, princesses, upcoming birthday parties etc.). Finally, my walk to work through downtown Toronto energizes me while I reflect on what a great city we live in.
What was your journey like to get where you are?
It was a mixture of luck, hard work, and having a few managers that really believed in me.  After finishing up my undergrad I returned to my PEY employer, IBM, in a consulting role. Consulting helped me get exposure to the business world and learn a bit about a variety of topics really quickly. The downside of consulting was some travel, but I made use of my over 100 nights spent in Niagara Falls for a client studying for the GMAT.  While at business school my goal was to work in venture capital and leverage my education and professional experiences so far. I was fortunate enough to land a job out of business school in venture capital for a large private equity firm.
Things did not work out at the equity firm and I ended up at eBay, that was almost 10 years ago and it's been a blast. I first worked on the eBay platform for Canada in a business analytics role. My second role at eBay was working for our US and international businesses looking at cross-border trade and helping some of our largest sellers be successful on our platform.
When my boss took another role I was ready for a change. By coincidence I was sitting across from the general manager of Kijiji at the time and I ended up joining the Kijiji team – building and heading up Kijiji's Strategy and Analytics function. While we were in rapid growth mode I learned more about the financial side of things while honing my strategy skills. When the prior CFO left to take a role at headquarters, I transitioned into his role. I've also been blessed with great teams and I owe a lot of my success to their support and performance.  Life is short and you want to work with people you get along with. My philosophy of dealing with people is the golden rule – treat people how you would like to be treated.
What is one thing that you're really into outside of work? Or a little known interesting fact about you?
I'm really into running and have completed  17 marathons (I am pretty close to qualifying for the Boston marathon). I recently finished in the top 10 at the 2016 Krispy Kreme challenge where you run 4km, eat a dozen doughnuts, and run 4km back.
The other strange thing I'm completely obsessed with is travel points. A few years ago I realized I was close to Air Canada's top status for the next year so I decided to fly to Hong Kong and back (didn't even clear immigration and got back on the same plane) to get the miles I needed.  In fact I'm writing this now somewhere over the Atlantic, having taken an extra connection and not the direct flight home to get more miles.
What's an area you have struggled with in your professional development since completing undergrad? What are you doing to ensure you continue to grow and develop as a professional and leader?
I used to be a really nervous and awkward public speaker. However, with a lot of practice and forcing myself to embrace public speaking at work I've gotten better. Right now I'm trying to cut down on my use of filler words and to appear more relaxed. Recently, I started experimenting with not rehearsing at all to come across as more natural and it has paid off.
For development, constructive criticism is crucial. I take feedback from my team seriously and try to encourage an environment where they are comfortable making suggestions. The other area I'm trying to work on is addressing healthy conflict – business moves fast and inevitably people will not agree and/or need to be held accountable. These are tough things to address but if done well (respectfully) can go far in driving success for the company and the individual.
Join us on November 28th at 6 pm in GB202 for the Leadership Lab on Industry Panel: What Skills Matter?
-Namya Syal