Join a tight-knit group of student leaders who push each other to become even better at driving change in their clubs and teams.

Purpose
Becoming a Summer Fellow brings you together with other student leaders who are deeply committed and driven to improve their club or organization, as well as themselves as leaders. Participants should have an existing idea or change project that they want to work towards for their organization. The Summer Fellows form a tight-knit group to push each other's learning through workshops, discussions, speakers, hands-on work, and peer feedback.
Great For
Student leaders who want to address key challenges and establish new directions for their club or organization.
Content & Topics:
Organizational Learning: Organizational Change, Culture Change, Strategy
Skills Building: Critical thinking, Active Listening, Understanding Perspectives, Planning
Leadership Development: Values, Learning from failure, Leadership styles
Engaging Activities: Workshops, Discussions, Speakers, hands-on work, peer feedback
Organizations That Have Participated:
EngSoc, UTAT, EWB, YNCN, VEEP, ChemClub, UofT Chem Vehicle, SEA, UofT Data Science, ProjectInclude, Startups, UT BIOME, National Society of Black Engineers, Sustainable Engineers Association, UofT Robotics Association, Institute of Industrial & Systems Engineers, Club for Undergraduate Bio Engineering
Time Commitment
Biweekly evening meetings from May 14th to August 13th.
How To Join
Applications will open in April 2020.
Applications will be reviewed on a rolling basis and short interviews will be conducted to choose the final cohort. Applying early will improve your chances of getting into the program. The final deadline for 2020 applications is TBD.
Don't hesitate to contact Jordan.daniow@utoronto.ca with any questions.
Current Cohort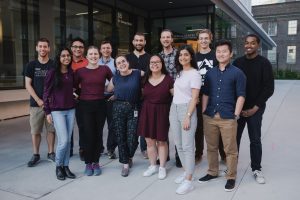 Previous Cohorts