The faces of leadership in our SkuleTM community
As part of ILead's Photographer, Aldrin Villamayor, and I (Anike Morrison, ILead's Communication Assistant)'s quest to uncover the various ways students characterize and live leadership, here is part 2 of the In the Field Leadership Series.
Frank Kuo (Year 1, ECE)
"I like to think of myself as a team leader who focuses on interacting and collaborating with his team members. I feel like leadership isn't about one solo person with followers; it's a team working together that adds to each other's values and strengths. I'm the captain of the intramural ultimate frisbee team at Chestnut. The reason I got into ultimate frisbee was I enjoyed the friendly, community-style leadership and atmosphere that the sport provided. I crave that atmosphere on my teams."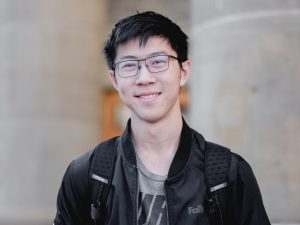 Mitchell Au (Year 4, ECE)
"On PEY, we were working on the Eglinton Crosstown, which is a very multidisciplinary project. At first, I didn't know the value of coordinating with other disciplines. I learned the hard way. I was in charge of working with embedding conduits into the station, and I would draw them as if there was nothing else in the concrete. It turns out looking at things only one way doesn't work; you need to talk to other disciplines to make sure your design is satisfactory to them as well. Just because it works electrically doesn't mean it's going to work for someone else.
To solve this, we would think: What are the biggest issues that could come up with someone from another discipline? Then we would have meetings with all the other disciplines and bargain with each other: If you give me this space on this side of the platform, I'll give you this space on that side."
Follow this series using #InTheFieldILead
Check out the last session here!
– Article by Anike Morrison
– Photography by Aldrin Villamayor