Assistant Director | Community of Practice | julietta.mikaelyan@utoronto.ca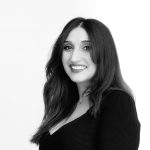 With over a decade of experience in the post-secondary sector, Julie brings her passion for delivering transformative learner experiences to each engagement.
She is driven to build mutually beneficial University-Industry partnerships, design enriching professional skill development programming, and foster a culture of leadership in learners and industry partners alike.
Witnessing first-hand the value and innovation that University-Industry partnerships creates, she is a strong advocate for the intentional and meaningful engagement of alumni, industry partners, and other stakeholders in University programming and strategic consultation.
As the Assistant Director, Community of Practice at the Troost Institute for Leadership Education in Engineering, Julie fosters a community network of industry partners & mobilizes ILead research into professional development programming to enhance engineering leadership education and empower early career engineering professionals to meet their own intrinsic leadership potential.