Instructor, TEP343 | samina.hashmi@utoronto.ca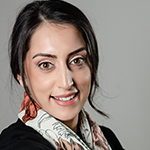 Samina Hashmi is an engineer, turned executive leadership coach and consultant in the arena of culture transformation. She has held senior leadership positions in the private and not-for-profit sectors, in a career spanning over 15 years. She is the founder of Drop Ocean Consulting; a boutique consulting practice that specializes in executive coaching, team development and strategy.
Samina believes that these transformational times are calling upon each of us to step into our fullest leadership potential. Drawing from the fields of developmental psychology, complexity theory, adult learning, mindfulness and somatics, and interpersonal neurobiology, she skillfully supports individuals and teams as they evolve leadership capacities that are required to meet tomorrow's increasingly complex world.
She holds a Higher Education Teaching Certificate from Harvard's Derek BOK Center for Teaching and Learning; with a specialization in inclusive online learning environments. Samina is an Associate Coach with the International Coaching Federation, a certified LEED® Green Associate and, and also serves on the Advisory Board of Presence-Based® Coaching. She was named one of Canada's Top 100 Most Powerful Women by the Women's Executive Network, received the Honours Medal for Outstanding Leadership from Carleton University and also the YWCA Women of Distinction Award.