Instructor, TEP1501 |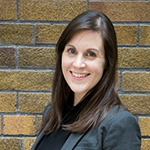 As a professional engineer Zoë spent her early career working on becoming a technical expert in her specialised field. She completed her bachelor's degree in Materials Science and Engineering at Imperial College, a Masters degree in Corrosion Engineering at the University of Manchester and later earning her PhD from the University of Toronto (ChemEng). This rigorous education drives her thesis-based, thoughtful, and hard-work approach to her career and has given her the confidence to tackle all kinds of challenges.
She has presented at numerous conferences, published in high-quality scientific journals and been a teacher and invited speaker at many events and universities. Her expertise and specialization in materials and corrosion have influenced the design and rehabilitation of a wide variety of assets across the globe.
As well as technical mastery, Zoë strongly believes in the necessity of blending engineering training with leadership skills, defining leadership as the ability to work to create positive change by motivating and inspiring those around her. She was part of the first cohort of students who took the first ILEAD course Leadership and Leading in Groups and Organizations, and has been living the teachings ever since!
As founder and CEO of ICE Dragon Corrosion Inc. (est. 2016), Zoë has had the expansive opportunity to put her own leadership ability to the test. Zoë set-up ICE Dragon to positively impact the way the mining industry deals with the significant business risks caused by asset degradation.