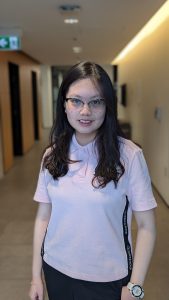 Ziting (Judy) Xia (Year 4, ChemEng) graduates with minors in Biomedical Engineering and Biomedical Engineering.
Born and raised in China, Xia moved to Canada as an international student during high school and at first encountered an unfamiliar educational dynamic. 
"In my younger age, leadership symbolized personal victory," recalls Xia.
"Academic performance was tied with rewards: each semester, the person holding the overall No.1 ranking would be named as the 'Head of the Class.' It was emblematic of its holders' strength, respect from their peers, and praise from their teachers. Being a leader of my class was the strongest motivator for me to excel in my studies."
"After I traveled to Canada for high school and university, things changed. As the competition went away in the North American education system, so did my triumph associate with each winning. To keep myself occupied, I channeled my energy into conducting translational engineering research." 
Yet Xia continued to do well in her studies in Canada. After commencing at University of Toronto, she made Dean's List 2018-2022 and maintained a cGPA of 4.0. She has also won the U of T Excellence Award for three consecutive years and worked in research labs every summer since her first year.
Her work on microplastic extraction from stormwater sample from Prof. Elodie Passeport's lab (ChemE & CivMin) and her work on creating 3D models for pancreatic cancer from Prof. Alison McGuigan's (Chem E & Institute of Biomedical Engineering) won second and first place in student presentations at the national Canadian Chemical Engineering Conference (CCEC 2019, 2020).
"Nevertheless, I felt something was missing," says Xia. "I felt like there was something more important than generating beautiful experimental data that might ultimately land on a high-impact journal." 
Then, one day early in her undergrad studies, Xia had a profoundly moving experience while attending a medical conference.
While listening to heartbreaking testimonials from the families of people dying from neurogenerative diseases, Xia was deeply moved to help. She later joined Prof. Nitin Joshi's lab at Center for Accelerated Medical Innovation at Brigham and Women's Hospital and Harvard Medical School with a clear goal in mind.
"My experience in the lab… left me a clear vision for my future," Xia says. "Moving forward, I aspire to be a leader in the field of drug delivery through developing platforms that ultimately annihilate the physiological barriers impeding our current drug pipelines. Specifically, I hope to specialize in neurodegenerative diseases." 
"My journey of translational research has re-defined leadership for me: it encompasses one's technical competence and commitment to a cause that truly benefits society."
During the height of the COVID pandemic, Xia was again driven to help those at risk.
After leading a team on a project to extend the life of N95 masks through an innovative retrofit, Via won a U of T COVID Student Engagement Award. She and her team then received a top 20 placing in the John Hopkins Top 20 in Global Covid Design Challenge. Her unique mask redesign is currently going through a patent licensing process in the U.S.
"My attendance at that medical conference had also left me a question: what is engineering leadership to society?" Xia says. "To me, it is the advocacy for pragmatics: creating designs for the sake of people."
"This concept was exemplified through my experience of leading a team of five students to work on the project of prolonging the use-life of N95 masks to tackle the broken supplied chain. Through iterations and discussion with healthcare providers, our design transformed from a tech-savvy air filtration system to a simple adhesive strip." 
Since discovering a passion for neuroscience and biomaterial engineering, Xia's definition of leadership has evolved greatly.
"My definition for leadership has evolved dynamically as I grow," she concludes.
"Shifting from my narrow-minded fixation on personal victory, I now perceive leadership as a collective victory, one accomplished by competent individuals with a strong sense of purpose who uphold humanist values through their practices."  
Xia aspires to continue her studies with a PhD in Medical Engineering and Medical Physics at the Harvard-MIT Health Science and Technology program.
Her PhD concentration area will be Brain and Cognitive Science, where she will focus on building therapeutic tools to study and model biological mechanism underlying neurodegenerative disease.
Click here to meet all the 2023 Troost ILead Difference Maker Award finalists!